$0.00
$ (USD)
Collected Outlooks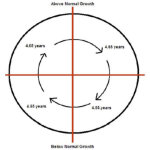 Ferrera's Collected Outlooks 2008 - 2019 are like instructional manuals in the Art of Financial Forecasting, providing educational studies on market theory and technique by a highly respected forecaster. They expand the toolbox of even seasoned traders, providing new tools and deep insights into cycles, technical analysis and Gann forecasting.
Commodity Trading
Gann's courses were generally categorized as either stock or commodity focused, but all principles taught for stock would equally apply to commodities. Stock traders who ignored Gann's commodity courses could miss out on many important techniques. Our Commodioty Trading material provides valuable techniques with a scientific approach to analysis.
Forecasting
Not everyone has the skill, experience or desire to make forecasts of market phenomena, so they turn to experts who provide information to help anticipate market trends. Our top analysts provide forecasts or reports for different markets to help traders understand market action and get educational guidance with trading or investments.
Market Software
Technical analysis requires sophisticated measurements and calculations, so good software tools save time and allow wider scope. We have carefully selected software for market analysis, geared towards Gann, geometric, astronomical, cycles or other related topics that we most use, including pre-programmed Gann and Astro tools.
Position Trading
Position trading is an approach recommended by both Gann and Baumring, saying that there were maybe only about 4 good trades per year in any market. Markets would go into congestions of accumulation or distribution for years awaiting a new trend, and meanwhile one trades other markets. Gann taught the same principles on his higher level, saying that MOST money was always made in following a strong trend.
Stock Trading
In Gann's day the two primary focuses for trading were stocks or commodities, but most principles taught for stock equally applied to commodities. Without ignoring Gann's commodity work we provide works focusing on equity markets and individual stocks, or discussing the stock market, revealing valuable techniques with a scientific or esoteric perspective.
Cosmogenesis
Cosmogenesis explores the basis of Cosmic origins via intelligent universal creation, rather than materialistic random forces. Consciousness or intelligent energy serves as the true plenum of creation, not random ordering of unintelligent matter. Intelligent Cosmogenesis has dominated all scientific, metaphysical and spiritual ideas from ancient times.
Physics
We don't cover all theories of modern or academic physics, but specializes in unusual books relating to applications connected with such topics as financial forecasting, and alternative or ancient cosmology. We cover theories like electromagnetism, energy grids, vortex systems, wave theory, vibration, relativity, power laws and hyper-dimensions.