$0.00
$ (USD)
Gann's Mass Pressure
W. D. Gann's Mass Pressure Forecasting Charts. By Daniel T. Ferrera. The Mass Pressure Formula is one of Gann's most guarded secrets. Mass Pressure indicates bullish and bearish trends according to Gann's Master Time Factor. These charts are based on Gann's philosophy that "the future is nothing but a repetition of the past".
Sean Erikson, a professional trader and fund manager, presents a set of highly refined tools for advanced swing trading based upon principles of celestial mechanics and ancient geometry. Developed and refined over 3 decades of research, trading and professional management, his astro-trading tools represent the culmination of a lifetime quest.
Polarity Factor System
The Polarity Factor System, An Integrated Forecasting & Trading Strategy Inspired by W. D. Gann's Master Time Factor, by Daniele Prandelli conveys the strategy and tools that Prandelli uses to generate a consistent 10% a month trading. A proven system with Advanced Risk Management Rules & time turning points based on Gann's cycle theory.
Baumring Reading List
Dr. Baumring's reading lists were very comprehensive, covering all areas of the markets, sciences and metaphysical fields. Baumring was an intensive scholar who read 1800 words a minute and had a photographic memory, thus extendinghis scope. Baumring's 10,000 volume library included around 500 books which he saw as core information.
Foreign Language
There are many important non English Language esoteric and scientific works which we have in our archives but have not, as yet, been translated into English. Some important books in this section have already been translated by our Translation Society, and we intend to translate others in the future.
Architecture
In ancinet times architecture often incorporated esoteric knowledge almost lost today, but encoded secretly into many existing ancient monuments. Geometric principles of divine proportion govern the complex forces underlying financial markets as well as architecture. We have one of the largest collections of books on these subjects in the world.
4th Dimension
Much science from the 1800's postulated a 4th Dimension, often considered to represent Time, in relationship to 3-Dimensional space. Gann himself posited the idea of space itself being a 4th dimension in the markets, which requires the Gann theorist to become familiar with complex and often metaphysical theories of extended dimensionality.
William D. Gann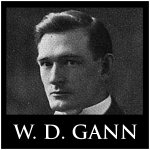 History's most intriguing financial analyst, forecaster and trader, W. D. Gann produced a 10,000% return with a 93% success rate in an audited 1909 interview. Gann said his market theory was based upon the Law of Vibration, leading scholars and analysts on a 100 year intellectual quest deep into theoretical physics, alternative science and esoteric philosophy.