$0.00
$ (USD)
Collected Outlooks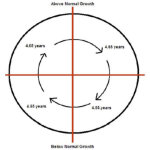 Ferrera's Collected Outlooks 2008 - 2019 are like instructional manuals in the Art of Financial Forecasting, providing educational studies on market theory and technique by a highly respected forecaster. They expand the toolbox of even seasoned traders, providing new tools and deep insights into cycles, technical analysis and Gann forecasting.
Commodity Trading
Gann's courses were generally categorized as either stock or commodity focused, but all principles taught for stock would equally apply to commodities. Stock traders who ignored Gann's commodity courses could miss out on many important techniques. Our Commodioty Trading material provides valuable techniques with a scientific approach to analysis.
Gann Research
Gann Analysis goes deeply into fields of history, economics, science, metaphysics, ancient civilizations, occultism, astrology, numerology, astronomy and time cycles. Gann's Recommended Reading List of 90 titles laid a foundation extended by Baumring to over 500 titles, We provide comprehensive resources on the deep principles of Gann's work.
Polarity Factor System
The Polarity Factor System, An Integrated Forecasting & Trading Strategy Inspired by W. D. Gann's Master Time Factor, by Daniele Prandelli conveys the strategy and tools that Prandelli uses to generate a consistent 10% a month trading. A proven system with Advanced Risk Management Rules & time turning points based on Gann's cycle theory.
Numerology
Systems of numerology date back to ancient Egypt, India and Israel. Hebrew number science, Gematria, was woven through the sacred texts of Semitic religion. Plato used numerical codes in his works, and Thomas Taylor elaborated the advanced systems of Pythagoras in his "Theoretic Arithemetic of the Pythagoreans".
Calendar Systems
Most people never give thought to the idea of a calendar and how we organise the passage of time. The days of the weeks and months, and the number of months each year are important influences on our experience of reality. We present many works on the exploration and meaning of time vis numerous calendar systems.
Cosmology
Cosmology provides the primary basis for our theoretical system of market order and scientific analysis. Moving beyond modern ideas, our approach to Cosmology involves Pythagorean, Esoteric, Eastern, and Ancient metaphysical theories of cosmology. Our ICE collection focuses on ancient concepts as well as modern alternative theories of the universe.