$0.00
$ (USD)
Gann's Mass Pressure
W. D. Gann's Mass Pressure Forecasting Charts. By Daniel T. Ferrera. The Mass Pressure Formula is one of Gann's most guarded secrets. Mass Pressure indicates bullish and bearish trends according to Gann's Master Time Factor. These charts are based on Gann's philosophy that "the future is nothing but a repetition of the past".
Sepharial Horse Racing
Sepharial's Private Horse Racing Arcana are the most important of his astrological prognostication systems, sold only by private subscription. The Master Key. The Golden Key. The Eclipse System. The Solar Lunar Values. The Solar Apex Method. Sepharial's Form Guide. Sepharial's Tidal Law. Sepharial's Solar Apex.
George Bayer
Like W D Gann, Bayer understood the Secret Cosmology behind the financial markets discovered within Ancient teachings. His 9 books cover deep esoteric finance, including topics like Squaring of the Circle, the Ellipse, and the 5 Fold Horoscope. We do a quality hardcover reprint of each of his works and offer a 2 Volume Suede Edition of his Complete Works.
W. D. Gann's Courses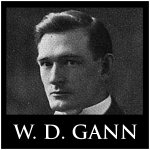 Collected Courses of William D. Gann, by W. D. Gann. 1920 - 1954. This is the most complete and best organized collection of Gann's Master Courses, his most important writings. Without these, Gann is impossible to understand! We've collected all the missing pieces and reorganized them back into Gann's original order.
Gann Theory
W.D. Gann's original work is a critical element for any Gann researcher, but many find Gann's deeper work challenging without help from well-seasoned analysts and traders. We offer valuable secondary works presenting and developing Gann's ideas: the best teachers in this field are not so much competitors, but fellow contributors to ongoing research.
Behind the Veil
Behind the Veil, by Dr. Alexander Goulden is one of the favorite courses of technical analysts and serious traders. Based on scientific principles identifying Price Levels, Time Turning Points, and Trends, thru Harmonic, Astronomical and Geometrical Techniques developed by a Cambridge Scholar. A new angle on Gann's work.
The Sacred Science Translation Society began in 2004 as a project to translate important and rare works on Cosmology and Esoteric Science into English. Donors and Contributions raised $40,000 to translate masterpieces from French and German on critical subjects in Harmonics, Geometry, Esoteric Mathematics, and Ancient Cosmology.
Gann Science Reading List
In the 1940's Gann published a Recommended Reading list of about 90 books, each containing an essential part his system, which he sold to his students. n the 1980's Dr. Baumring compiled about 70 of these titles, and we have collected the remainder, providing the only complete set available. We strongly recommend these works to all Gann students.