$0.00
$ (USD)
Bradley's Siderograph
Bradley's Stock Market Prediction. 100 Years of Siderograph Charts and Software. The Siderograph Indicator is a market model used by many analysts to give current turning points and trend indications for the markets. This book includes the original text and charts for 100 years from 1950 to 2050, along with the software to produce the charts.
Econ & SM Forecasting
Economic and Stock Market Forecasting, W. D. Gann's Science of Periodicity Sequencing, by Daniel T. Ferrera is a course which presents Gann's science of Mathematical Cyclic Sequencing of Market Pattern Periodicities showing how to use them in conjunction with Gann's cycle theory and to forecast the Global Economy,
W. D. Gann's Courses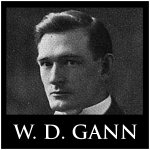 Collected Courses of William D. Gann, by W. D. Gann. 1920 - 1954. This is the most complete and best organized collection of Gann's Master Courses, his most important writings. Without these, Gann is impossible to understand! We've collected all the missing pieces and reorganized them back into Gann's original order.
L. David Linsky's new book "The Key to Speculation in the Gold Market" reveals a method to accurately predict when Gold will make its tops and bottoms. Gold Market projections since 1974 have an accuracy of 90-99%, and insight into previously unknown cycles will allow any trader to capture Gold's primary swings for the rest of their life.
Richard Scott
Scott dedicated 7 years to analyze 100 years of Dow Jones data to decode the causative effect of planetary influences. He analyzed the background energetic effects of astrological elements to project influences. His methods need NO prior astrological knowledge nor the use of a horoscope to trade the Global Index, Stock, Futures and FOREX markets.
India
The great ancient civilization of India is rich in traditions of wisdom and knowledge, focusing on mystical realms and development of human consciousness. India has given us awareness of the Chakras and Kundalini energy, as well as being the home of many great spiritual traditions. We also cover the mathematical and geometrical traditions of India.
Mysticism
Most mystical systems tend to come from Eastern Traditions, dominated by Hindu Vedanta and Buddhism, followed by the Sufi tradition. Judaism has the mystical tradition of Kaballah, and Christianity has great figures like Meister Eckhart, St. Teresa of Avilla, Hildegard von Bingen and Thomas Merton.
Cosmogenesis
Cosmogenesis explores the basis of Cosmic origins via intelligent universal creation, rather than materialistic random forces. Consciousness or intelligent energy serves as the true plenum of creation, not random ordering of unintelligent matter. Intelligent Cosmogenesis has dominated all scientific, metaphysical and spiritual ideas from ancient times.