$0.00
$ (USD)
Dr. Alexander Goulden
Dr. Goulden, a Cambridge educated scholar, takes an individualistic approach to market analysis, focusing on deep principles and exploring trading techniques based on foundational systems. This deep, many layered approach provides non-correlated confirmation of Gann from different angles, such as financial astrology based on ancient systems.
George Bayer
Like W D Gann, Bayer understood the Secret Cosmology behind the financial markets discovered within Ancient teachings. His 9 books cover deep esoteric finance, including topics like Squaring of the Circle, the Ellipse, and the 5 Fold Horoscope. We do a quality hardcover reprint of each of his works and offer a 2 Volume Suede Edition of his Complete Works.
Prophecy
A generalized term for any kind of metaphysical methodology for predicting future events. Examples would be psychic phenomena, reading crystal balls, scrying mirrors, numerology, astrology, and many more such divinatory techniques. These systems are popular amongst esoteric traders and forecasters seeking insight into future events.
Yoga
Yoga is an Indian system of human development with many branches and schools. The word Yoga means "yoke", as in yoking a horse to a carriage, and Yoga gives methods for man to link himself to the Divine. Yogic systems include Laya Yoga, Bhakti Yoga, Raja Yoga, Jnana Yoga, Kriya Yoga and Karma Yoga.
Science Biography
There are a many important historical figures in the field of science and cosmology, like Pythagoras, Plato, Hermes, Bruno, or the misrepresented Isaac Newton. The work of these outstanding men contributed a great deal to our extended fields of knowledge. We specialise in books exploring the work of past masters who contributed so much.
Vibrational Radiesthesia
There is a long tradition of the use of instruments to read subtle energy forces in nature, through the use of subtle measuring devices like dowsing rods and pendulums. The Jesuits were famous for finding water sources, showing advanced knowledge of using these techniques. The scientific name for this practice is Vibrational Radiesthesia.
William D. Gann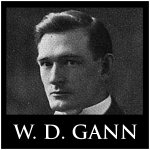 History's most intriguing financial analyst, forecaster and trader, W. D. Gann produced a 10,000% return with a 93% success rate in an audited 1909 interview. Gann said his market theory was based upon the Law of Vibration, leading scholars and analysts on a 100 year intellectual quest deep into theoretical physics, alternative science and esoteric philosophy.
Sean Erikson
Sean Erikson, with 25 years' experience, provides powerful astro-tools for advanced swing trading based upon celestial mechanics to consistently predict the angle of attack or slope of a forthcoming trend. A simple astro-timing tool gives the next 1-3 turns out and a geometrical price projection tool gives 2 probable price projections for each move.