$0.00
$ (USD)
Collected Outlooks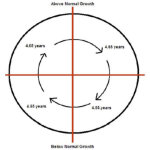 Ferrera's Collected Outlooks 2008 - 2019 are like instructional manuals in the Art of Financial Forecasting, providing educational studies on market theory and technique by a highly respected forecaster. They expand the toolbox of even seasoned traders, providing new tools and deep insights into cycles, technical analysis and Gann forecasting.
CosmoEconomics
Cosmological Economics, the Key focus of this website, has its origins in Gann's Law of Vibration, interpreted and extended by the work of Dr. Jerome Baumring. Scientific phenomena are seen as a basis of correlation and causation underlying the financial market, indicating a symbiotic relationship between Cosmic forces and reactions on Earth.
George Bayer
Works by or about George Bayer, or source works referred to by Bayer or related to his work.
Market Timing
The two fundamental elements of reality are space and time, and of the markets price and time. Gann always said that Time is the most important variable. If you know exactly WHEN to place your trades, when the market will turn, top, bottom, react or breakout, you will be able to trade or invest with great precision.
Prophecy
A generalized term for any kind of metaphysical methodology for predicting future events. Examples would be psychic phenomena, reading crystal balls, scrying mirrors, numerology, astrology, and many more such divinatory techniques. These systems are popular amongst esoteric traders and forecasters seeking insight into future events.
Codes and Ciphers
We have books on symbolic codes and ciphers from various esoteric traditions, including Masonic codes. Gann used codes in "Tunnel Through the Air", and encrypted his personal notes using a code called "Bell, Book and Candle". Gann enthusiasts study Masonic codes to help uncover his secrets.
Number Theory
Esoteric and Pythagorean sciences love to play with the value and meaning of numbers, from the complex mathematical theories of the Platonists, via Fibonacci's ideas, to number progressions, ratios, proportions, sequences, and chaos theory. We specialize in the overlap of numerical and esoteric systems positing a more integrated cosmology.
Dr. Alexander Goulden
A Cambridge scholar who, intrigued by the challenge of Gann's esoteric work created a powerful set of technical tools based upon principles of Ancient Geometry, Celestial Mechanics, and Pythagorean Harmonics, which project Price, Time and Trend with exact precision. His 2nd course applies the Secrets of Ancient Astrology to forecasting.