$0.00
$ (USD)
Law of Cause & Effect
The Law of Cause and Effect, Creating a Planetary Price Time Map of Market Action, by Daniele Prandelli. This course presents the correct application of W. D. Gann's Planetary Longitude Lines, using a proprietary conversion factor to properly tune them by sympathetic resonance to any market! One of Gann's most powerful trading techniques.
George McCormack
George McCormack, famous Astrometeorologist, is known for his classic Long-Range Astro Weather Forecasting, the most popular book on the Astro-Weather Forecasting. He also produced a series of financial market forecasting newsletters called Astrotech. We have recovered the only known partial set of 400 pages of these newsletters.
Vibration by The Patterns
Volume 1 of Dr. Lorrie Bennet's 4 volume series. A course in Theoretical Wave Mechanics as an introduction and foundation to Gann's Law of Vibration. This volume lays foundations for all Gann and Baumring's higher teachings and is an essential prerequisite to move on to the deeper levels of Gann Theory presented in Vols. 2-4.
Econ & SM Forecasting
Economic and Stock Market Forecasting, W. D. Gann's Science of Periodicity Sequencing, by Daniel T. Ferrera is a course which presents Gann's science of Mathematical Cyclic Sequencing of Market Pattern Periodicities showing how to use them in conjunction with Gann's cycle theory and to forecast the Global Economy,
W. D. Gann's Courses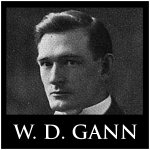 Collected Courses of William D. Gann, by W. D. Gann. 1920 - 1954. This is the most complete and best organized collection of Gann's Master Courses, his most important writings. Without these, Gann is impossible to understand! We've collected all the missing pieces and reorganized them back into Gann's original order.
Grain Trading
Gann gave much attention to grain markets, and in particular Wheat, Corn and Soybeans. Gann had a Wheat chart back to 65 BC, which Baumring took back to 1200 BC. Long historical data made Wheat a premier market to study long term cycles, and grain markets depend on weather, a secondary phenomenon which Gann also studied and analyzed.
Ancient Civilizations
Ancient civilizations teach us much, but knowledge of ancient cultures is academically perverted and misrepresented. Great monuments like the pyramids and temples far exceed modern architecture, incorporating sciences not even considered today. Our catalog has many rare and important works on Ancient Civilizations.
Dr Lorrie Bennett
Dr. Lorrie Bennett is one of few Gann experts to crack the Law of Vibration! 20 years of research led to the solution based on a complex code in Gann's texts. Following Baumring, Dr. Bennett explains the Law of Vibration in a 4 Volume Advanced Series revealing the Patterns, Numbers, Planets & Geometry behind Gann's secret trading system.