$0.00
$ (USD)
Ferrera's Astro-Bible
Studies In Astrological Bible Interpretation. By Daniel T. Ferrera. An interesting exploration of the coding of astrological and astronomical cycles into the Bible. Provides an analysis of the book of Genesis, exploring coding systems by which astrological symbolism is veiled, showing how Gann and Bayer used these secrets in the markets.
PFS Grain Forecast
2019 PFS Grain Forecast Bulletin by Daniele Prandelli. A Swing Trader's Forecast Based Upon Gann's Key Principles. The PFS Forecasting Model gives a model of the most expected highs, lows, turns and impulses and is then combined with Key Price Levels as determined by Gann's planetary longitude lines, creating a tradable forecast for the coming year.
Vibration by The Patterns
Volume 1 of Dr. Lorrie Bennet's 4 volume series. A course in Theoretical Wave Mechanics as an introduction and foundation to Gann's Law of Vibration. This volume lays foundations for all Gann and Baumring's higher teachings and is an essential prerequisite to move on to the deeper levels of Gann Theory presented in Vols. 2-4.
W. D. Gann's Courses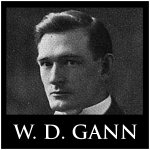 Collected Courses of William D. Gann, by W. D. Gann. 1920 - 1954. This is the most complete and best organized collection of Gann's Master Courses, his most important writings. Without these, Gann is impossible to understand! We've collected all the missing pieces and reorganized them back into Gann's original order.
Market History
The stock and commodity markets have a history stretching over millennia, from the Bible to the present day, furnishing data on sun spots, planetary changes, weather cycles, volcanoes, earthquakes, solar variances, and other influences on financial markets. Gann charted Wheat back to 65 BC and Baumring took this back to 1200 BC.
The Sacred Science Translation Society began in 2004 as a project to translate important and rare works on Cosmology and Esoteric Science into English. Donors and Contributions raised $40,000 to translate masterpieces from French and German on critical subjects in Harmonics, Geometry, Esoteric Mathematics, and Ancient Cosmology.
Yoga
Yoga is an Indian system of human development with many branches and schools. The word Yoga means "yoke", as in yoking a horse to a carriage, and Yoga gives methods for man to link himself to the Divine. Yogic systems include Laya Yoga, Bhakti Yoga, Raja Yoga, Jnana Yoga, Kriya Yoga and Karma Yoga.
Mathematics
We have a selected collection of unusual books presenting alternative metaphysical concepts and mathematics, including conceptual approaches useful for financial forecasting or more esoteric cosmological theory. Both WD Gann and Dr. Baumring used methods of calculating universal ordering processes focused upon methods of prediction.