$0.00
$ (USD)
Sepharial's Articles
Sepharial's Kaleidoscope. A Monthly Column from the British Astrology Journal. Walter Gorn Old, 1111 pages. This was a centerpiece of the British Journal of Astrology, 6 pages of each 16 page issue. Sepharial wrote the column for 22 years, and it represents the bulk of Sepharial's work including some of his best and most revealing writings.
Day Trading
Approaches to trading begin with choice of a time window. Day or intraday trading focuses on short term swings, generally not holding positions overnight. Although Gann, trading before the electroinc age, did not favor short term trading, his techniques do work on this level, since similar patterns exist on every time frame whether very small or very large.
W. D. Gann's Courses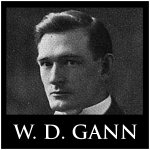 Collected Courses of William D. Gann, by W. D. Gann. 1920 - 1954. This is the most complete and best organized collection of Gann's Master Courses, his most important writings. Without these, Gann is impossible to understand! We've collected all the missing pieces and reorganized them back into Gann's original order.
Position Trading
Position trading is an approach recommended by both Gann and Baumring, saying that there were maybe only about 4 good trades per year in any market. Markets would go into congestions of accumulation or distribution for years awaiting a new trend, and meanwhile one trades other markets. Gann taught the same principles on his higher level, saying that MOST money was always made in following a strong trend.
Foreign Language
There are many important non English Language esoteric and scientific works which we have in our archives but have not, as yet, been translated into English. Some important books in this section have already been translated by our Translation Society, and we intend to translate others in the future.
Glass Bead Game

This derives from a book by Hermann Hesse, representing an underlying symbolic cosmology that is the basis of all science, philosophy, spirituality and thought. Hesse imagines a game created using universal symbols to represent flows of thought or information. This is a metaphor for systems of esoteric symbolism underlying all knowledge.
Zen
Zen and Chan are similar terms from Japanese and Chinese systems of Buddhism, but they originate from the Indian word Dhyana, loosely translated as "meditation". Zen is a mind science, giving direct access to the core layers of mind. The origin of Zen is in India, home of Buddhism. Allan Watt's called it "Hinduism stripped for export".
Physics
We don't cover all theories of modern or academic physics, but specializes in unusual books relating to applications connected with such topics as financial forecasting, and alternative or ancient cosmology. We cover theories like electromagnetism, energy grids, vortex systems, wave theory, vibration, relativity, power laws and hyper-dimensions.