$0.00
$ (USD)
Keys to Speculation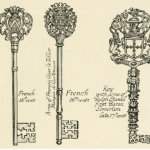 Keys to Successful Speculation by Daniel T. Ferrera is an applied technical trading system using the essentials of risk management with Gann based swing trading. This course has everything a trader needs to go from "0" to being a successful trader, including account management, risk management, trading strategy, entry & exit signals.
L. David Linsky's new book "The Key to Speculation in the Gold Market" reveals a method to accurately predict when Gold will make its tops and bottoms. Gold Market projections since 1974 have an accuracy of 90-99%, and insight into previously unknown cycles will allow any trader to capture Gold's primary swings for the rest of their life.
Market Psychology
Books on the psychological element of the markets and trading. These works cover both how markets are influenced by the psychology of the individuals behind them, as well as the actual psychology behind trading for the trader.
Position Trading
Position trading is an approach recommended by both Gann and Baumring, saying that there were maybe only about 4 good trades per year in any market. Markets would go into congestions of accumulation or distribution for years awaiting a new trend, and meanwhile one trades other markets. Gann taught the same principles on his higher level, saying that MOST money was always made in following a strong trend.
Gann Reading List
In the 1940ís Gann published a 2-page list of about 90 Books that he stocked and sold to his students, known as "W. D. Gannís Recommended Reading List". Each book contains some component of Gannís system of knowledge essential for piecing together his system. Any one book may have one simple idea critical to Gann's perspective.
Sepharial
Sepharial (Walter Gorn Old) was an associate of W. D. Gann and Blavatsky who produced a number of works on esotericism and financial market analysis, his Arcana & Keys being the most rare. We reprint Sepharial's original collection of the Arcana, The Kaleidoscope, a 1000 page collection of articles from the British Journal of Astrology.
Hans Kayser
Kayser, the greatest scholar of harmonic science, was far ahead of his time, penetrating the depths of ancient esoteric Pythagorean Tradition to present a universal Law of Vibration. His "Textbook of Harmonics" provides the most valuable insight into Gannís Law of Vibration of any resource. We have so far translated four of his works into English.
Sean Erikson
Sean Erikson, with 25 years' experience, provides powerful astro-tools for advanced swing trading based upon celestial mechanics to consistently predict the angle of attack or slope of a forthcoming trend. A simple astro-timing tool gives the next 1-3 turns out and a geometrical price projection tool gives 2 probable price projections for each move.