$0.00
$ (USD)
Astrology Manuscripts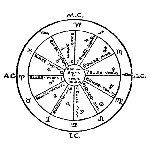 The Earliest Financial Astrology Manuscripts. By W. D. Gann, Fred White, Prof. Weston, Sepharial, etc. This collection centers on a set of 4 rare manuscripts dated 1902-1930 proving the advanced level of astrology earlier than previously known. Their likely authorship is Fred White and Gann documenting the earliest thought in this field.
Market Science
Science provides vital concepts for analyzing financial markets. Studies of momentum, moving averages, pattern formation, energy, speed, power, strength, impulse, gravity centers, electro-magnetism, solar phenomena, geomagnetic field influences, aether physics, vortex systems, vibration, and wave mechanics are of significant relevance.
Baumring Financial List
Dr. Baumring compiled long reading lists even more comprehensive than Gann's, comprising works having key elements directly applicable to Gann Theory and Cosmological Economics. Any student wanting to explore particular fields in depth will find Baumringís lists to be indispensable, since they over important but unfamiliar topics.
Speculation
Speculation is the trading of market positions for the sole purpose to make money. It is a secondary industry from general investing in stocks or trading in commodities where individuals buy and sell with no fundamental interest in the underlying market. We publish many works using this term, like Gannís "Speculation a Profitable Profession".
Weather Forecasting
Weather has a strong influence on the potential prices of crops, so Astrological weather forecasting was of great interest to market analysts. We publish George McCormack's Long Range Astro-weather Forecasting which is considered one of the better classics. A.J. Pearce also wrote some sections on weather forecasting which are classics.
The Law Of The Cosmos, The Divine Harmony According To Plato's Republic/Timeaus, and The Platonic Riddle Of Numbers Solved contains 100s of sophisticated diagrams on Sacred Geometry, Pythagorean and Platonic Number Theory, Harmonics and Astronomy with analysis, elaboration of Universal Order and Cosmic Law.
Franz Bardon
Franz Bardon's magical works present a path of initiation through 3 levels of the Tarot. The first book teaches internal training, the second teaches the science of Magical Evocation, and the third teaches transcendental methods of the Kaballah. Frabato presents biographical informatioin about Bardon, with commentaries by friends and students.
Celestial Mechanics
Celestial Mechanics deals particularly with the motion of celestial bodies, especially the solar system, but also wider regions of cosmic space. The subject explores the relationships and processes of heavenly bodies, examining cycles of time, motions of celestial bodies, and the influences between cosmic and local forces.