Prandelli Market Forecast Results
January 2012 & March 2013
As Documented in his Forecast Bulletins & Online Blog
By Daniele Prandelli
2013 1st Quarter Forecast Trading Results
The following sections track Prandelli's trades over the past year in the S&P, Soybean and Corn markets. These trades are based upon the techniques presented in his 2 courses, The Law of Cause & Effect, and The Polarity Factor System, and in his Forecast Bulletins which present just his Key Price Levels and PFS Timing Points. The italicized text generally comes from his real-time analysis on his Online Blog, where all of these trades and forecasts are document, or from his Forecast Bulletins.
S&P 500 April 2nd 2013
Prandelli captured the explosive breakout to new all time highs.
In his April 2nd S&P Forecast Bulletin Update , Prandelli stated:
My interpretation of the S&P is that it is very strong. The PFS is about to turn up after April 4-6. I would like to follow this push up to higher prices. To confirm this scenario, I would like to see a brief descent from the today's High (April 2nd), with lower prices around April 4-6. In this case then we may see the up push suggested by the PFS, with a High around April 12-18.
- Daniele Prandelli
S&P 500 February 16th 2013
On February 16th an update was sent to all the buyers of Prandelli's 2013 S&P500 Bulletin, stating the following:
Just a quickly update:

In January we have not seen any descent, and the market has continued to go up. The most important signal, as we said, was the movement above the important price at 1477 points. It is evident now that the market is moving above this price, and looking at my studies it means that next main trend should be up, and for this reason in my Daily and Weekly Reports I interrupted my attempts to the SHORT side in the 3rd week of January. The S&P500 was above 1477 points, so there was not any reason to take SHORT positions, and since then we have not seen any movement under the 1477.

So, now we are trading the uptrend. Only a consolidation under XXX points (you must subscribe to the bulletin for this current data) will change our strategy, but this is not the favored scenario.

Statistically, in February we should see a descent where we will have a new opportunity to enter LONG at lower prices, and at the moment the favorite dates are around 23-25 February or March the 1st. The market is arriving at a top area around February the 18th, and this can be a good change in trade date to expect to see lower prices in the next days. What is very important is the strategy! Working with my key prices, I lost only 8 points trying to SHORT below 1477.

This change doesn't mean that the PFSs is not going to work in the future. As you can see, the long-term PFS is making a LOW in February, and the short-term PFS is moving in a general uptrend. I will use the short-term PFS to take advantage of the possible up pushes, in this way I will trade the uptrend after the 25th.
If we look at the S&P500 chart, we see that the forecast was correct, with the possibility to take advantage of the descent after the top on Tuesday 19th February, and the strong up trend started in February 26th.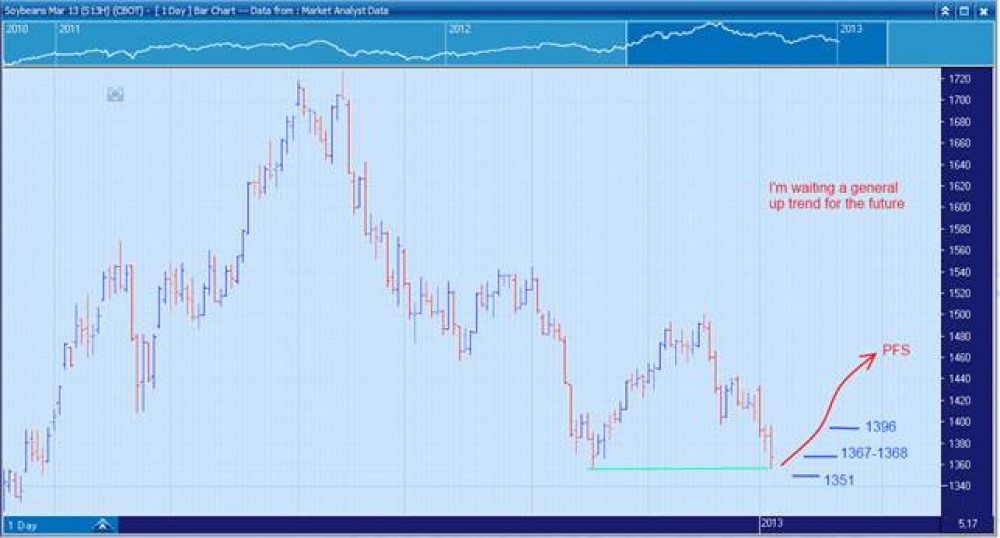 Soybeans
The following shows the results of his Report Service using his forecasting and strategy method with Soybeans, where his recent results have been:
Soybeans: +152 points in 45 days & +206 points in 75 days
We have been getting very good results with the Commodities that we are now trading using our PFS signals and Key price lines for trading. On the Soybeans Contract we gained 152 points in just 45 days and 206 points in 75 days. How was it possible to get these results? With a precise and intelligent strategy, and with a solid forecast! Here I show you my Monthly Forecast for December and January that I sent to subscribers of the Prandelli Grain Forecast Bulletin.
Forecast for December, from the Monthly Report:
And this has been the forecast for January, from the January Report: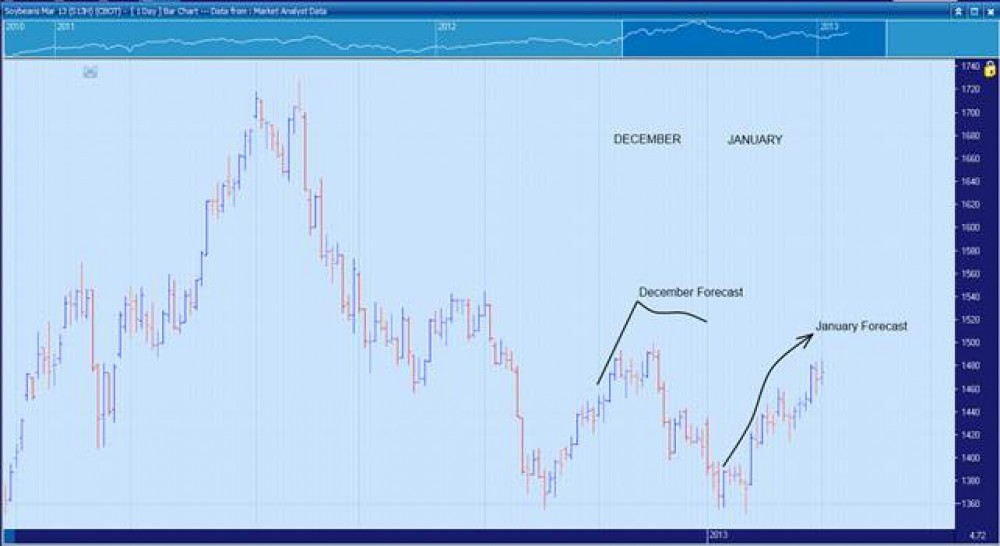 And here's what the real Soybean market did:
You can see that we have been able to take advantage of every up swing thanks to the forecast. We were waiting for a general up trend until circa December 12. Then the PFS was suggesting us a stop of the uptrend, with a lateral or descending phase until the end of the year. In January the PFS was suggesting again to follow the uptrend, and it has been right, producing good profits.
Here you can see all the trades were done on my Blog, following the strategy that I use every day to follow my PFS forecast:
My methods and strategy are also working very well on the CORN, but CORN is a less volatile market, so it gives us less opportunity to make big profits. In any event, in CORN over the last 75 days we have accumulated +65 points profit, which is absolutely not bad considering that CORN is now trading at 738 points. It means almost +9% of profit on the whole value in just 75 days. In the Soybean market, 214 points means almost +14% in 75 days. Not bad!
2012 END OF YEAR TRADING RESULTS
In late November I started to keep Records of the trades generated by my Reports. Over the years, people have asked me to show them the track record of the trades generated by my service, but I have never kept it because I saw it as a waste of time. But now I see that too many people ask for and want to see these results, so I decided to keep consistent records of all my signals moving forward. The tracking begins from 19 November 2012, so there are not so many trades yet, but you can see that my service is currently trading four markets: S&P500 (with an intraday strategy and a mid-term strategy for people that cannot follow the market intraday), Corn, Soybeans and ASX200.
S&P500 Mid-Term Strategy & End of Day Strategy

Date
LONG/SHORT
Open price
Amount
Close price
Amount
Points
Total Points
19/11/2012
LONG
1375
1-Feb
26/11/2012
1403
1-Feb
28
14
4/12/2012
LONG
1413
1-Feb
11/12/2012
1424.5
1-Apr
11.5
At the moment we are LONG, in profit of 16 points.
S&P500 Intraday Strategy with Intraday Trades

Date
LONG/SHORT
Open price
Amount
Close price
Amount
Points
Total Points
19/11/2012
LONG
1374
1
21/11/2012
1389
1-Mar
15,00
27/11/2012
1408
1-Mar
34,00
28/11/2012
1394
1-Mar
20,00
23
4/12/2012
LONG
1412
1
1409.5
1
-2,50
-2,5
5/12/2012
LONG
1405
1
6/12/2012
1415
1-Mar
10,00
11/12/2012
1424.5
1-Mar
19.5
We are Long with 1/3, S&P500 now at 1429 points. We are in profit of 24 points.
Corn Strategy

Date
LONG/SHORT
Open price
Amount
Close price
Amount
Points
Total Points
19/11/2012
LONG
729
1
23/11/2012
746
1-Mar
17,00
28/11/2012
760
1-Mar
31,00
7/12/2012
744
1-Mar
15,00
21
SHORT
744
1
10/12/2012
732.5
1-Mar
11,00
We are SHORT with 2/3 of the position, Corn now at 722 points. At the moment we are in profit of 22 points.
Soybeans Strategy

Date
LONG/SHORT
Open price
Amount
Close price
Amount
Points
Total Points
20/11/2012
LONG
1403
1
26/11/2012
1427
1
24,00
24
LONG
1429
1
1426
1
-3,00
-3
27/11/2012
LONG
1430
1
28/11/2012
1444
1-Feb
14,00
6/12/2012
1483
1-Feb
53,00
33,5
7/12/2012
LONG
1494
1
1491
1
-3,00
-3
At the moment we are FLAT.
ASX200 Strategy with Intraday Trades

Date
LONG/SHORT
Open price
Amount
Close price
Amount
Points
Total Points
22/11/2012
LONG
4409
1
27/11/2012
4458
1
49,00
49
29/11/2012
LONG
4464
1
30/11/2012
4500
1-Mar
36,00
6/12/2012
4518
1-Mar
49,00
At the moment ASX200 at 4584 points. We are Long with the last 1/3, in profit of 120 points
All these are the actual trades of my service, given with Daily Reports or Weekly Reports. So, why are the courses so important? Just one real example will help to demonstrate. This is what I wrote in my 2012 Bulletin about the S&P500:

Let's turn to the prices: according to my studies, S&P500 is working in a price range between area 1290-1296 (-30 margin points) and 1473-1500 points. Indeed, at the moment, my principal target on the S&P500 is the area of 1473-1500. If it reaches this price, the S&P500 could begin to go down, but everything depends on WHEN this price is reached! Moreover, if the S&P500 should retrace to the area of 1260-1295 without having reached the first target at 1473-1500 points, this could be a very good BUY point...!

Guys, now, December 2012, we can see that during the year the Low was 1266.74 points (my perfect BUY point forecast) and the High has been 1474.51 points (My forecast High area). And if you had The Law of Cause & Effect, you would have known these two prices exactly where they come from, while The Polarity Factor System would have given you the timing.

Daniele Prandelli
2012 Forecast & Trading Results S&P500 & Soybeans
With a description of Prandelli's trading strategy and demonstration of his risk management system
From an article published in Trader's World magazine, Winter 2013
For some people it seems impossible to ever make money in the markets. Whatever they trade, they always seem to lose. But there is a fundamental mathematic reason that proves this does not have to be true, and this reason is simple: if you can lose money, you could win money as well, if only you traded in exactly the opposite way as you do when you lose. Everyone in their trading life, after a constant string of losses, asks themself if there is a way to trade in the opposite direction, and in this way turn the losses into profits! And the annoying thing is that there is truth to this reasoning!

But when you start to think in this manner, your mind becomes confused, and it seems almost impossible to be able to do the contrary Why is this? Because we are really not aware of our trading process. We lack precise rules, and are not disciplined, and this is the exact reason why people are not able to make money trading. It is because they really do not understand what they do wrong and why they lose money. If you understand exactly why you lose money, you will be able to learn to make profits as well. This is like a mathematically precise psychological rule. If, in a sum, you have a total of 5, with one addendum being 3, you know that the other addendum must be 2! It is the same thing with your trading. If you know why you lose, you know how to win as well.

So, following this line of reasoning, I created my own personal trading methodology. In analyzing my losses, I saw 2 major problems:

I had big losses and small profits
I had too many losing trades

So, I concentrated my effort to solve this problem. For those who don't know me, I use a specific price target technique which allows me to trade with small stop-losses, while leaving the profits to run, To do this, I use very precise price points (which I call Key Prices), which work by providing important support and resistance or acceleration areas. This knowledge allows me to place my trades at a specific price target which allows me to trade with very tight risk management around these points. Using this technique, I can be stopped out 1-3 times with very small losses, while waiting for the market to break away from this Key price level and begin its run, and when it does so, the profits produced are many times the amount of the 1-3 small losses taken to enter the trade at the Key point. Along with these Key prices, I follow a time forecast model given by my of Polarity Factor System, which complements the price levels with the important expected turning points in time.

To demonstrate the results obtained by following all these rules as explained in my Polarity Factor System Course, I will show you the results for an account that I was managing. I have records of all my trades on the contract of the S&P500 Future exp. March 2012, the contract ESH2 (I will summarize the results here, but for those who would like to see the specific trades, they are posted at this link: http://iaminborsa-eng.blogspot.se/2012/03/is-real-trading-possible.html). This is an account which I trade using generally only 1 contract, though in exceptional cases I used 2 or 3 contracts. From the 14th of December 2011 until the 14th of March 2012, (3 months), I gained 4782.82 Euro, which is around $6,250 US Dollars. I think this is not bad, considering that I was working with an account that started with only $14,000 US Dollars, so a return of approximately 45% in 3 months, or 15% a month on average. Also, I generally traded only 1 contract on this account, and it is not easy to create a strategy with just 1 lot. Following is a list of my trades:

| | | | | | | | |
| --- | --- | --- | --- | --- | --- | --- | --- |
| ESH2 | MINISP500 MAR12 | Futures | 141 | | | | 4.782,82 |
| Simbolo | Data operazione | Pzo medio Apertura | Pzo medio Chiusura | Mercato | Quantity | Valuta | P&L |
| ESH2 | 14/12/2011 | 1.214,25 | 1.215,50 | Futures | 1 | USD | 48,1 |
| ESH2 | 14/12/2011 | 1.216,50 | 1.210,25 | Futures | 1 | USD | -240,51 |
| ESH2 | 15/12/2011 | 1.211,75 | 1.218,75 | Futures | 1 | USD | 268,84 |
| ESH2 | 15/12/2011 | 1.214,38 | 1.215,50 | Futures | 2 | USD | 86,41 |
| ESH2 | 16/12/2011 | 1.219,50 | 1.219,75 | Futures | 1 | USD | 9,57 |
| ESH2 | 16/12/2011 | 1.219,00 | 1.215,50 | Futures | 1 | USD | -133,96 |
| ESH2 | 16/12/2011 | 1.219,00 | 1.215,50 | Futures | 1 | USD | -133,96 |
| ESH2 | 19/12/2011 | 1.211,00 | 1.216,75 | Futures | 1 | USD | 220,49 |
| ESH2 | 19/12/2011 | 1.208,50 | 1.205,50 | Futures | 1 | USD | -115,04 |
| ESH2 | 21/12/2011 | 1.208,50 | 1.231,00 | Futures | 1 | USD | 861,8 |
| ESH2 | 21/12/2011 | 1.224,25 | 1.237,00 | Futures | 1 | USD | 488,36 |
| ESH2 | 22/12/2011 | 1.240,00 | 1.243,75 | Futures | 1 | USD | 143,71 |
| ESH2 | 23/12/2011 | 1.246,25 | 1.253,25 | Futures | 1 | USD | 268,06 |
| ESH2 | 28/12/2011 | 1.251,38 | 1.251,00 | Futures | 2 | USD | -28,68 |
| ESH2 | 29/12/2011 | 1.254,00 | 1.256,75 | Futures | 1 | USD | 106,72 |
| ESH2 | 3/01/2012 | 1.278,50 | 1.276,00 | Futures | 1 | USD | 96,05 |
| ESH2 | 10/01/2012 | 1.286,25 | 1.288,25 | Futures | 1 | USD | 78,08 |
| ESH2 | 11/01/2012 | 1.286,25 | 1.281,25 | Futures | 1 | USD | -196,57 |
| ESH2 | 11/01/2012 | 1.286,50 | 1.284,25 | Futures | 1 | USD | -88,46 |
| ESH2 | 11/01/2012 | 1.286,50 | 1.284,25 | Futures | 1 | USD | -88,46 |
| ESH2 | 11/01/2012 | 1.287,00 | 1.287,00 | Futures | 3 | USD | -98,29 |
| ESH2 | 11/01/2012 | 1.286,67 | 1.284,25 | Futures | 3 | USD | -285,03 |
| ESH2 | 11/01/2012 | 1.286,25 | 1.288,75 | Futures | 1 | USD | 98,29 |
| ESH2 | 12/01/2012 | 1.286,13 | 1.284,50 | Futures | 2 | USD | -127,59 |
| ESH2 | 12/01/2012 | 1.287,25 | 1.287,25 | Futures | 4 | USD | -225,74 |
| ESH2 | 12/01/2012 | 1.287,08 | 1.288,25 | Futures | 1 | USD | 45,8 |
| ESH2 | 12/01/2012 | 1.287,08 | 1.289,25 | Futures | 1 | USD | 85,06 |
| ESH2 | 13/01/2012 | 1.287,08 | 1.287,50 | Futures | 1 | USD | 16,31 |
| ESH2 | 13/01/2012 | 1.283,25 | 1.277,00 | Futures | 1 | USD | 244,7 |
| ESH2 | 13/01/2012 | 1.272,75 | 1.276,00 | Futures | 1 | USD | -127,24 |
| ESH2 | 13/01/2012 | 1.276,50 | 1.280,75 | Futures | 1 | USD | 166,39 |
| ESH2 | 17/01/2012 | 1.284,00 | 1.296,25 | Futures | 1 | USD | 478,89 |
| ESH2 | 17/01/2012 | 1.294,00 | 1.294,00 | Futures | 2 | USD | -146,6 |
| ESH2 | 17/01/2012 | 1.295,00 | 1.296,50 | Futures | 1 | USD | -58,64 |
| ESH2 | 17/01/2012 | 1.294,63 | 1.291,50 | Futures | 1 | USD | 122,17 |
| ESH2 | 17/01/2012 | 1.294,63 | 1.291,25 | Futures | 1 | USD | 131,94 |
| ESH2 | 17/01/2012 | 1.289,25 | 1.287,75 | Futures | 1 | USD | 58,64 |
| ESH2 | 18/01/2012 | 1.287,75 | 1.289,75 | Futures | 1 | USD | -77,94 |
| ESH2 | 19/01/2012 | 1.307,25 | 1.306,75 | Futures | 1 | USD | 19,36 |
| ESH2 | 19/01/2012 | 1.307,50 | 1.309,25 | Futures | 2 | USD | -135,54 |
| ESH2 | 19/01/2012 | 1.307,67 | 1.310,00 | Futures | 3 | USD | -271,09 |
| ESH2 | 20/01/2012 | 1.308,63 | 1.309,50 | Futures | 2 | USD | -67,82 |
| ESH2 | 20/01/2012 | 1.307,67 | 1.305,75 | Futures | 1 | USD | 74,28 |
| ESH2 | 20/01/2012 | 1.307,78 | 1.309,50 | Futures | 1 | USD | -66,74 |
| ESH2 | 20/01/2012 | 1.307,78 | 1.309,50 | Futures | 1 | USD | -66,74 |
| ESH2 | 20/01/2012 | 1.307,93 | 1.306,75 | Futures | 1 | USD | 45,57 |
| ESH2 | 23/01/2012 | 1.307,93 | 1.310,50 | Futures | 1 | USD | -98,87 |
| ESH2 | 23/01/2012 | 1.308,48 | 1.307,00 | Futures | 1 | USD | 56,67 |
| ESH2 | 23/01/2012 | 1.308,48 | 1.311,00 | Futures | 1 | USD | -96,98 |
| ESH2 | 23/01/2012 | 1.308,99 | 1.308,25 | Futures | 1 | USD | 28,49 |
| ESH2 | 23/01/2012 | 1.309,33 | 1.311,50 | Futures | 1 | USD | -83,44 |
| ESH2 | 23/01/2012 | 1.309,33 | 1.311,50 | Futures | 1 | USD | -83,44 |
| ESH2 | 24/01/2012 | 1.309,91 | 1.305,25 | Futures | 1 | USD | 179,34 |
| ESH2 | 24/01/2012 | 1.309,91 | 1.309,00 | Futures | 1 | USD | 35,14 |
| ESH2 | 26/01/2012 | 1.306,50 | 1.320,75 | Futures | 1 | USD | 542,03 |
| ESH2 | 26/01/2012 | 1.320,63 | 1.319,75 | Futures | 1 | USD | 33,28 |
| ESH2 | 26/01/2012 | 1.320,63 | 1.313,00 | Futures | 1 | USD | 290,03 |
| ESH2 | 30/01/2012 | 1.299,25 | 1.297,50 | Futures | 1 | USD | 66,74 |
| ESH2 | 30/01/2012 | 1.300,50 | 1.303,50 | Futures | 2 | USD | -228,83 |
| ESH2 | 30/01/2012 | 1.302,50 | 1.304,00 | Futures | 1 | USD | -57,21 |
| ESH2 | 30/01/2012 | 1.303,75 | 1.302,00 | Futures | 3 | USD | -200,23 |
| ESH2 | 30/01/2012 | 1.304,25 | 1.308,00 | Futures | 1 | USD | 143,02 |
| ESH2 | 31/01/2012 | 1.304,25 | 1.304,50 | Futures | 1 | USD | 9,49 |
| ESH2 | 31/01/2012 | 1.306,25 | 1.306,00 | Futures | 1 | USD | -9,49 |
| ESH2 | 31/01/2012 | 1.303,83 | 1.303,50 | Futures | 1 | USD | 12,65 |
| ESH2 | 31/01/2012 | 1.303,83 | 1.303,25 | Futures | 1 | USD | 22,14 |
| ESH2 | 31/01/2012 | 1.303,83 | 1.303,25 | Futures | 1 | USD | 22,14 |
| ESH2 | 31/01/2012 | 1.306,00 | 1.306,00 | Futures | 3 | USD | -47,43 |
| ESH2 | 31/01/2012 | 1.305,67 | 1.306,25 | Futures | 1 | USD | 22,14 |
| ESH2 | 31/01/2012 | 1.305,36 | 1.305,75 | Futures | 1 | USD | 14,76 |
| ESH2 | 1/02/2012 | 1.305,36 | 1.305,25 | Futures | 1 | USD | -4,22 |
| ESH2 | 1/02/2012 | 1.305,36 | 1.318,50 | Futures | 1 | USD | 498,63 |
| ESH2 | 1/02/2012 | 1.317,00 | 1.321,25 | Futures | 1 | USD | 161,29 |
| ESH2 | 1/02/2012 | 1.323,75 | 1.322,50 | Futures | 1 | USD | 47,44 |
| ESH2 | 2/02/2012 | 1.324,25 | 1.321,25 | Futures | 1 | USD | 114,56 |
| ESH2 | 9/02/2012 | 1.349,00 | 1.346,25 | Futures | 1 | USD | 103,48 |
| ESH2 | 10/02/2012 | 1.342,75 | 1.341,75 | Futures | 1 | USD | 37,91 |
| ESH2 | 13/02/2012 | 1.340,50 | 1.346,00 | Futures | 1 | USD | -207,48 |
| ESH2 | 13/02/2012 | 1.347,25 | 1.350,25 | Futures | 1 | USD | -113,17 |
| ESH2 | 15/02/2012 | 1.353,75 | 1.352,75 | Futures | 1 | USD | 38,19 |
| ESH2 | 15/02/2012 | 1.353,75 | 1.352,25 | Futures | 1 | USD | 57,29 |
| ESH2 | 16/02/2012 | 1.336,50 | 1.341,50 | Futures | 1 | USD | -192,57 |
| ESH2 | 16/02/2012 | 1.339,08 | 1.343,00 | Futures | 3 | USD | -452,55 |
| ESH2 | 16/02/2012 | 1.343,50 | 1.346,00 | Futures | 1 | USD | -96,29 |
| ESH2 | 16/02/2012 | 1.351,50 | 1.355,50 | Futures | 1 | USD | -154,06 |
| ESH2 | 16/02/2012 | 1.353,00 | 1.357,00 | Futures | 1 | USD | -154,06 |
| ESH2 | 17/02/2012 | 1.353,00 | 1.357,00 | Futures | 1 | USD | -151,99 |
| ESH2 | 24/02/2012 | 1.355,25 | 1.365,00 | Futures | 1 | USD | 363,48 |
| ESH2 | 28/02/2012 | 1.357,25 | 1.369,75 | Futures | 1 | USD | 464,55 |
| ESH2 | 28/02/2012 | 1.370,25 | 1.369,25 | Futures | 1 | USD | 37,16 |
| ESH2 | 28/02/2012 | 1.370,50 | 1.370,25 | Futures | 1 | USD | 9,29 |
| ESH2 | 28/02/2012 | 1.370,00 | 1.367,75 | Futures | 1 | USD | 83,62 |
| ESH2 | 28/02/2012 | 1.370,50 | 1.371,50 | Futures | 1 | USD | -37,16 |
| ESH2 | 29/02/2012 | 1.373,88 | 1.375,00 | Futures | 1 | USD | 41,84 |
| ESH2 | 29/02/2012 | 1.373,69 | 1.374,50 | Futures | 1 | USD | 30,22 |
| ESH2 | 29/02/2012 | 1.373,40 | 1.373,75 | Futures | 1 | USD | 13,17 |
| ESH2 | 29/02/2012 | 1.373,40 | 1.371,75 | Futures | 2 | USD | -122,43 |
| ESH2 | 29/02/2012 | 1.371,25 | 1.366,50 | Futures | 1 | USD | 176,67 |
| ESH2 | 29/02/2012 | 1.368,75 | 1.367,75 | Futures | 1 | USD | 37,19 |
| ESH2 | 1/03/2012 | 1.366,25 | 1.367,75 | Futures | 1 | USD | 56,34 |
| ESH2 | 1/03/2012 | 1.369,50 | 1.372,50 | Futures | 1 | USD | -112,68 |
| ESH2 | 1/03/2012 | 1.372,50 | 1.372,50 | Futures | 3 | USD | -75,12 |
| ESH2 | 1/03/2012 | 1.372,50 | 1.372,00 | Futures | 1 | USD | 18,78 |
| ESH2 | 1/03/2012 | 1.372,50 | 1.371,00 | Futures | 1 | USD | 56,34 |
| ESH2 | 5/03/2012 | 1.368,00 | 1.364,25 | Futures | 1 | USD | 141,83 |
| ESH2 | 5/03/2012 | 1.362,13 | 1.364,50 | Futures | 2 | USD | -179,65 |
| ESH2 | 5/03/2012 | 1.363,83 | 1.363,75 | Futures | 1 | USD | -3,15 |
| ESH2 | 5/03/2012 | 1.362,50 | 1.362,50 | Futures | 3 | USD | -100,86 |
| ESH2 | 6/03/2012 | 1.363,38 | 1.356,75 | Futures | 1 | USD | 251,84 |
| ESH2 | 6/03/2012 | 1.363,38 | 1.349,25 | Futures | 1 | USD | 536,95 |
| ESH2 | 8/03/2012 | 1.359,50 | 1.367,50 | Futures | 1 | USD | 302,07 |
| ESH2 | 9/03/2012 | 1.365,50 | 1.367,50 | Futures | 1 | USD | 75,81 |
| ESH2 | 14/03/2012 | 1.368,75 | 1.398,25 | Futures | 1 | USD | 1.129,23 |
| | | | | | | Total | 4782,82 |

Over this period, I traded 141 buy/sell lots. I pay around 3 Euro per buy or sell per contract. So I paid 141 x 3 x 2= 846 Euro in commissions. There were 67 trades with profits and 46 trades with a loss, meaning that there were 59.29% winners to 40.31% losers. Some might consider this not a very good percentage! Many people ask me what percentage of success of my strategy has, but I think this is the wrong question, though inside it is the reason why people are not able to understand why they lose money. If I can make two trades with a loss, and just one with a profit, with the end result a profit of 30 points, I can easily accept my low rate of wins with pleasure!

So, the most important thing should be evident! It is not important how high the rate of winning trades is, but how much I lose when I close a trade in loss vs. how much I win when I close a trade in profit. When I trade using my Key price points, I am able to use stop losses of only 3 points, but my average winning trade is over 20 points. So, even several losses are over compensated by just one profitable trade. This is what you need to understand and take advantage of in your trading, and is why I have said that you must always create a strategy that permits you to cut the losses and to let the profits run!

This risk management system is explained in my Polarity Factor System Course, available through Sacred Science Institute. If you have a way to indicate key price levels, you can use those points to trade very effectively using these tight stop losses. Adding a layer of timing to the system through the study of cycles taught by WD Gann, I also have an intermediate forecast model which I call my PFS Model, which indicates important turning points of several days to a couple of weeks. When I watch these Key Time Points conjoined with the market's movement around the Key Price Levels, clear and tradable indications are given as to the intermediate changes in trend.

Sometimes these changes can occur with several choppy swings at a top or a bottom, which will often leave a trader who enters too early getting stopped out before the trade begins. In this situation, you need a risk management system which will allow you to enter again, if stopped, and again, at each opportunity, so that in case the market has a sudden powerful movement, one will catch the profitable trade. But if your stops are not tight enough, your capital will be eroded, and your overall results will suffer. With my 3 point stops placed at my Key price points, I can always limit my losses, while still being in the market when it begin its run.

Now that we've discussed the Key price areas and the risk management system, let's take a look at the PFS time forecast, that I know it is the most exciting part of the study. The following chart shows the PFS Forecast for the Soybean market for 2012.

As you can see, the trend was up till July, then descended until October, then up again. We are looking at this model for the general trend, and as you can see looking the Soybean Chart, it worked well, and was a good guide to trade the trend:

The PFS was up until July, where a final top on July 22 was indicated, then a descent until October. Soybeans followed this up trend, starting the year around 1219 points and on Friday, July 20 (22 was Sunday), Soybeans closed at 1757 points. Not bad! But looking the PFS, it is time to close the position because it is down until October 10. On October 10, Soybeans was at 1523 points. Again a good hit. After October 10, the PFS is up, but Soybeans continued down in the first part of November before turning. Now Soybeans is back near the October 10th level, with an up movement from mid-November, rejoining the expected trend. I do not trade long term, I use a mid-term strategy with mid-term prices. For example, I didn't remain SHORT during the descent of November, but when the trend changed, I I entered LONG just on November 20, above 1400 points, because it was a one of my mid-term Key prices.

These are examples of the trades that are posted on my Daily Report Service. I have also now made available the PFS Forecast Bulletins for the full year of 2013 on the S&P500, Corn and Soybean Markets. These Bulletins are published by The Institute for Cosmological Economics, and include a Yearly Report where I give the PFS Models with the general trend, intermediate time turn indications, and impulse points throughout the year. The service also includes ongoing updates during the year giving the relevant Key prices to use in trading these markets. On the Sacred Science website, you will also find information about my two trading courses, The Law of Cause and Effect, and The Polarity Factor System, as well as my Forecast Bulletins, along with trading records, information about how to join my blog, and more.

Daniele Prandelli
Related Pages