The Clairvoyant's Window An Review by Gordon Roberts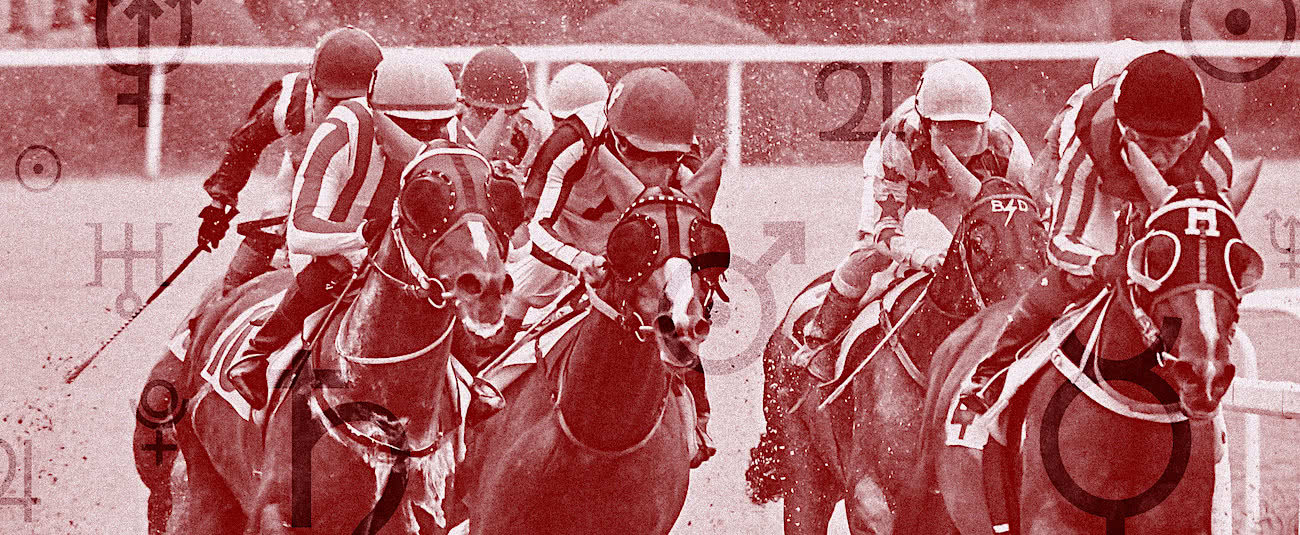 A book by Eric Penicka
I was fortunate to be approached with an unusual question. It was, "Would you be interested in editing a book about winning bets at the horse races?" As a humble student of W.D. Gann, my mind immediately spiraled back to past readings. I recalled that Mr. Gann was reputed to have done extremely well with races and lotteries. So, I was extremely interested, but I had a problem…
I explained to the publisher that I have neither attended nor bet on a horse race. I had seen the Kentucky Derby with Howard Cosell on TV and that just looked like rich snobs exchanging mutual ass-kisses while horses ran races and everyone got drunk. Despite my well-established ability to get drunk, I didn't think I was qualified as a reviewer given the other subject matter. The publisher responded that he'd actually like the viewpoint of an "uninitiated" person, so I began exploring a new education of sorts.
Before I accepted the project, I asked a friend that had talked about races in the past what he thought of Pari-Mutuel race betting. He was an IBM systems programmer and logistician from the 60s and 70s. He excitedly told me that he was confident that he could make a living at the race track but his religious wife of the last 30 years didn't allow him to bet. Of course, as a friend, I gave him the requisite hell about him being his wife's bitch. We giggled that all us married guys were! Then, he told me that he took lots of money home from the races in the past. He continued on and on about how he loved betting at the tracks. There was a real sparkle in his eye. That "independent review" of racing sold me on this edit project.
Now, "The Clairvoyant's Window" and my friend have expanded my horizons a bit. I know that there's more to the horse races than wealthy snobs and mint julips. Guys like me can get drunk and bet on the races too! I've still not attended a race or placed a bet, but I've seen enough to know that the odds approximate 100% that I will be placing a horse racing bet in my future. I'll deviate from the traditional script as I'll probably play on-line and I'll have a stiffer drink than whatever the hell a "julip" is. 😊
Now that I've finished my edit of the book, the publisher asked me to condense the concepts into "layman terms" for a review. He is guessing that the average Gann researcher is like I was and might not know much about the races. Accordingly, I'll attempt to provide a high-level description of the package and its general theory…
To over-simplify things… where each commodity contract has a winner and a loser for a zero-sum game (commissions are an added cost), and a casino gambler is generally betting against odds where the house has an inherent advantage, the pari-mutuel betting system is different. It has all bettors contributing to a pool of funds. Everyone betting in the pool agrees to payouts that come after the house takes its cut from the pool (to cover track costs and a reasonable profit). In that light, the house builds its "win" into the equation by taking a cut of the pool instead of playing an inherent odds advantage or charging a commission. While the house's "take" is usually a pretty good portion of the total pool of funds, everyone in the pool is happy with the arrangement and still wants to play. They all hope to win more money than they bet and go home richer after a fun day at the races.
As everyone places their bets, the house/track tabulates everything. Computers do that work today, but it was a mechanical "totalisator" back in the 1920s when Mr. Gann might have loved the races. As the bets are "totalized", the more of the total that is bet on a horse, the lower the payout will be if that horse is a winner. In that way, the combined bets set the odds for each horse. You can watch the odds change and develop on the "tote board" as the julip-swilling race enthusiasts bet.
Again, the pay-out is slanted such that the winners with the lowest "foreseen odds" of winning will get the greatest rewards from the pool. Every bet is not created equal! Within this design for a betting system, you literally don't want to bet like everyone else.
This makes the betting take on a dimension of a thinking man's game or "puzzle". If you don't like the odds and your setup for the horses in the race, you don't have to bet. You can sit out that race and get another strong julip-replacement for the next race. I love this aspect of the "sport"… My success will be governed by how well I out-perform my fellow humans while they try to out-perform me. It's mental jujitsu… and maybe even while getting drunk. What a world we live in!
Given the way the combined-human bets dictate the resulting mathematical odds, the people that win the most races won't necessarily win the most money. You can't just bet the obvious winners. If you bet on a horse that wins $0.75 for the $1 you bet, you lost money for a "winning" bet. If you enjoy that kind of experience, you might as well turn your investing prowess loose on negative-interest rate government bonds for a tantalizing long-term holding.
Mr. Penicka explains that you need to pick the more elusive and "less-likely" winners for your betting strategies. That's where his analytical tools come into the equation. He is hunting cases where the population of human bettors think his horse is "less likely" while his studies think his odds are much better. Therein is the advantage in Mr. Penicka's world… He studies the races through "The Clairvoyant's Window". In the book, he documents many races over the past few years to show you how the concepts work and unexpected winners could actually be expected. It's not a flowery presentation, it's about presenting the evidence.
There could a large number of races and Mr. Penicka may just be excited about a subset of them. He can do much of the prep-work in advance.
Then, his decision to bet is made just before race-time given that the odds and possibly the horses themselves can be changing until… "THEY'RE OFF!"
There has to be a bit of excitement and adrenaline in that environment as you take on risk against everyone else taking on risk… with hopes of bettering their thought process. Don't you just love hope and greed?
Then, unlike trading, with the horse race you will almost always know the outcome in a few short minutes! Then, you repeat the process for the next races.
For more specifics about the book, Mr. Penicka tells the readers up front that he's not here to teach you all about horse racing and betting. He's not going to teach you a lot of the basics. Similarly, he won't tell you about tax implications in your jurisdiction or that race winnings aren't taxable in some countries either. As a newbie, that bothered me at first. I wanted a lot of hand-holding but that was unreasonable of me. It's the same with trading. This level of book simply can't teach me everything about such a topic in 750+ pages… so Mr. Penicka doesn't pretend to try.
Instead, he provides enough references, tools, and resources that I can set out on this quest with a pretty clear direction. I've found that the internet has plentiful resources to learn more too. I had no idea how popular horse/dog racing is in different parts of the world. With COVID19, maybe this becomes a great long-distance internet betting hobby. Maybe I have a timely new way to enjoy some internet time from the house. But… back to the book…
Instead of a bunch of details about the basics, Mr. Penicka explains his theory and provides many pages showing his techniques against a history of actual races. In my case, not much time has passed since he wrote the book, so he essentially provided a lot of back-testing proofs of concept up to my present time.
Mr. Penicka is wise enough to know that he can't just prove this will work for you or me. However, I believe he has established that the strategies have worked to build wonderful betting advantages many times in the past. Proving my ability to duplicate his success will be up to me.
All said, I'm thinking it isn't every human that will love this kind of book, but most humans that trade probably can. Using myself as an example, I believe I can look at some odds and make a decision relatively quickly based upon pre-studied input… and place a bet! It's much like trading. I can probably do that a few times in a racing day between drinks too. Maybe there's even a rich and snobby drunk bastard hiding inside me. Hell… I'll probably even try one of those mint julips!
Another thing I should mention is that I was initially confused with new terminology that comes with esoteric concepts like Vedic Astrology. I can't even pronounce some of it. However, Mr. Penicka provided some Excel tools to help do much of the more "difficult calculations". To me, that is a key or I'd probably be lost. I don't think I necessarily have to know a lot of the astrology or esoteric theory he exposes me to because the Excel tools should help provide that wisdom via formulas and data.
At the same time, if these concepts are working as the many examples suggest, my inner nature will have to study the theory and not just let Excel allow me to remain ignorant! At its heart, I'd argue that the studies are essentially looking at different forms of vibrations. And… for me, a wonderful side-benefit of this all is that now I have an ephemeris capability within my spreadsheets that I previously didn't have.
The irony of it all is that I'd prefer there be no sales of this book! I have zero financial stake in sales and I don't want to split any future betting pools with any of you! That is one of the reasons Mr. Penicka initially didn't want to share his data and spreadsheets. He wanted you to have to work at it before you could compete with him. However, we talked him into sharing that intellectual property too as an essential piece of the package.
That is also a reason that I personally wouldn't be surprised if this book will be removed from the market if Mr. Penicka sees a noticeable impact to his betting wins. If too many people play his strategies, that can impact his payouts, right? After chatting with him, I know that the book is more to document stuff for his family than to make sales in the first place. So… the "Window" of opportunity to learn these strategies may be limited. This book is expensive in part because there are legitimate reasons to not want to sell very many copies! That's an unusual situation for a book.
In summary, I'm glad I did this edit project and I believe I come away from the effort better for it. I'll never know what was in Mr. Gann's head, but I know he spent time studying things like the Vedic wisdom and I know he played the races and lotteries. Maybe Mr. Penicka is revealing some of that tradition. In my opinion, his book provides evidence that I probably needed to open my mind. Now…I just have to go prove the concepts in real-time for myself…
Gordon Roberts
4/18/2020
Price & Ordering
Hardcover 2 Volumes

Cosmological Economics

Book ID: 797

Publication Date: 2020

An Astrologer's Key to Parimutuel Success
Related Pages