$0.00
$ (USD)
Edward R. Dewey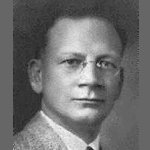 Edward Dewey specialized in cycles, and formed the Foundation for the Study of Cycles. We publish his 650 page Magnum Opus, How To Make a Cycle Analysis. Dewey also developed his Unified Field Theory called The Theory of Laminated Spacetime, presenting a scientific system behind market causation similar to Gann and Baumring.
Bradley's Siderograph
Bradley's Stock Market Prediction. 100 Years of Siderograph Charts and Software. The Siderograph Indicator is a market model used by many analysts to give current turning points and trend indications for the markets. This book includes the original text and charts for 100 years from 1950 to 2050, along with the software to produce the charts.
Position Trading
Position trading is an approach recommended by both Gann and Baumring, saying that there were maybe only about 4 good trades per year in any market. Markets would go into congestions of accumulation or distribution for years awaiting a new trend, and meanwhile one trades other markets. Gann taught the same principles on his higher level, saying that MOST money was always made in following a strong trend.
Sepharial
Sepharial (Walter Gorn Old) was an associate of W. D. Gann and Blavatsky who produced a number of works on esotericism and financial market analysis, his Arcana & Keys being the most rare. We reprint Sepharial's original collection of the Arcana, The Kaleidoscope, a 1000 page collection of articles from the British Journal of Astrology.
Stock Trading
In Gann's day the two primary focuses for trading were stocks or commodities, but most principles taught for stock equally applied to commodities. Without ignoring Gann's commodity work we provide works focusing on equity markets and individual stocks, or discussing the stock market, revealing valuable techniques with a scientific or esoteric perspective.
Cosmogenesis
Cosmogenesis explores the basis of Cosmic origins via intelligent universal creation, rather than materialistic random forces. Consciousness or intelligent energy serves as the true plenum of creation, not random ordering of unintelligent matter. Intelligent Cosmogenesis has dominated all scientific, metaphysical and spiritual ideas from ancient times.
Space-time

Space and time can be seen as the primary elements which define the container of existence in which we all function. In the financial markets we could say that Price and Time are the two primary elements which define market movement and structure. Price is Space in the financial market cosmos, and Gann himself even referred to Space in market charts.
Time
Time is a primary consideration in science, philosophy or financial market theory. Our collection of titles on Time in all of its elements covers subjects which range from Hyperdimensional Time Cycles to Relativity and Spacetime. Books selected by Dr. Baumring and W.D.Gann provide deep insights into market analysis and scientific or esoteric cosmology.