$0.00
$ (USD)
Keys to Speculation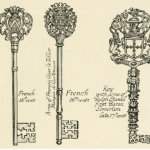 Keys to Successful Speculation by Daniel T. Ferrera is an applied technical trading system using the essentials of risk management with Gann based swing trading. This course has everything a trader needs to go from "0" to being a successful trader, including account management, risk management, trading strategy, entry & exit signals.
Market Barometers

A quick insight into general conditions of the market can be had by synthesizing combinations of data as simple indicators giving an overview. Such indicators are often based on diverse data, from astrological signals, like Scott's Astronomical Market Barometer or Bradley's Siderograph, to whether a specific market is overbought or oversold.
Market Geometry
Analytical systems, techniques and tools based upon the use of geometry are significantly effective when applied to the analysis of market trends.
Position Trading
Position trading is an approach recommended by both Gann and Baumring, saying that there were maybe only about 4 good trades per year in any market. Markets would go into congestions of accumulation or distribution for years awaiting a new trend, and meanwhile one trades other markets. Gann taught the same principles on his higher level, saying that MOST money was always made in following a strong trend.
Freemasonry
A modern history of Freemasonry begins in the 1700's with the Knights Templar and the Gothic Cathedrals, but its inner lore goes back to King Solomon and Ancient Egypt. Freemasonry was an inner teaching preserving the deep spiritual wisdom of mankind, but has been diluted in modern times. Our collection focuses on the teachings of original Freemasonry.
Art
In Ancient times, art was more than a form of entertainment or decoration, being a means of preserving various forms and levels of knowledge, including scientific principles. A core element is called "The Canon", whereby through ratio, proportion, shape and symbolism, an entire system of universal knowledge can be encoded and preserved.
Geometry
One of the 4 Classical Liberal Arts, geometry is a basic ordering principle of the universe. Market Geometry is the study of the markets looking at growth ratios and proportions of moves, structures, reactions, price levels and time cycles. Gann, a master geometer, used sacred geometry for market analysis via Gann Angles and his Master Squares.
Natural Order
Natural Order has from ancient times looked deeply into principles of order behind nature and the universe, like phyllotaxis which governs the placement of leaves on plants, the harmonic ratios between the placement of the planets in the solar system, or the spirilic mathematics of galaxies. Natural order reveals magical relationships in the natural world.