$0.00
$ (USD)
Alan Andrews
Books by and about the geometrical techniques of Dr. Alan Andrews, developer of the Pitchfork, the ML Line and a number of excellent geometrically based tools.
Ferrera Gann Textbook
The Path of Least Resistance, The Underlying Wisdom & Philosophy of W. D. Gann Elegantly Encoded in the Master Charts, by Daniel T. Ferrera. A detailed comprehensive elaboration of W.D. Gann's most powerful trading tools. Gann's core mathematical and important geometrical techniques in his master calculators, angles and spiral charts.
W. D. Gann's Courses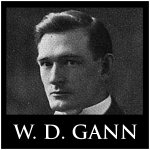 Collected Courses of William D. Gann, by W. D. Gann. 1920 - 1954. This is the most complete and best organized collection of Gann's Master Courses, his most important writings. Without these, Gann is impossible to understand! We've collected all the missing pieces and reorganized them back into Gann's original order.
Alchemy
The name Alchemy has reference to Ancient Egypt, known to Arabs as Kemi (Black Land). Al-Kemi means "of Egypt". The Great or Royal Art of medieval philosophers predated chemistry but goes beyond material science to more subtle concern with transmutation - of base metals into gold, and of base man into spiritual man. .
Mysticism
Most mystical systems tend to come from Eastern Traditions, dominated by Hindu Vedanta and Buddhism, followed by the Sufi tradition. Judaism has the mystical tradition of Kaballah, and Christianity has great figures like Meister Eckhart, St. Teresa of Avilla, Hildegard von Bingen and Thomas Merton.
Cosmogenesis
Cosmogenesis explores the basis of Cosmic origins via intelligent universal creation, rather than materialistic random forces. Consciousness or intelligent energy serves as the true plenum of creation, not random ordering of unintelligent matter. Intelligent Cosmogenesis has dominated all scientific, metaphysical and spiritual ideas from ancient times.
Magic Squares
In Magic Squares the addition of each of the rows and columns add up to the same number. From Ancient times thinkers have explored these mathematical mysteries, uncovering deep ordering principles underlying numbers and geometry. Within his esoteric market analysis systems Gann used a "Squares of Nine" and a "Square of Four".
Eric Penicka
The solution to Gann's Law of Vibration from the 1909 Ticker Interview. Penicka analyzes Gann's exact words correlating them with the cutting edge science of Gann's day to develop a system which identifies the "mathematical points of force" behind all market action. A system of order based on atomic data generates master numbers for each market structure.