$0.00
$ (USD)
Collected Outlooks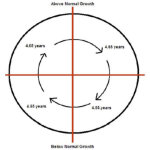 Ferrera's Collected Outlooks 2008 - 2019 are like instructional manuals in the Art of Financial Forecasting, providing educational studies on market theory and technique by a highly respected forecaster. They expand the toolbox of even seasoned traders, providing new tools and deep insights into cycles, technical analysis and Gann forecasting.
Forex Trading
Forex has become very popular, with trades not so limited by time and swings not as volatile as other commodities. Forex is essentially a commodity, so its markets follow general commodity rules and many facets of Gann analysis work just fine for the Forex exchange. We provide techniques, tools and systems particularly focused on the currency markets.
The Square
The Square: Quantitative Analysis Of Financial Price Structure by Catalin Plapcianu develops the science behind Gann's Squaring of Price and Time. Proves that financial markets are mathematically controlled and predictable. A deep insight into Gann and Baumring's deepest system which tracks energy through the space/time matrix.
Hans Kayser
Kayser was a leading 20th century scientist who made a profound mathematical, geometric and philosophical study of Harmonic Science. Available in English though our Translation Society, Kayser's works explore deep principles of Pythagorean Harmony and Order. His books give critical insights into Gann Theory and The Law of Vibration.
Theosophy
Theosophy, a school of esoteric thought developed my Helena Blavatsky in the late 1800's presented a revival of many lost esoteric traditions. Many of Gann's contemporaries were closely involved with Theosophy, and it influenced the Anthroposophy of Rudolf Steiner, the Arcane School and work of Alice Bailey and the teacher Krishnamurti.
Cosmogenesis
Cosmogenesis explores the basis of Cosmic origins via intelligent universal creation, rather than materialistic random forces. Consciousness or intelligent energy serves as the true plenum of creation, not random ordering of unintelligent matter. Intelligent Cosmogenesis has dominated all scientific, metaphysical and spiritual ideas from ancient times.
Eric Penicka
The solution to Gann's Law of Vibration from the 1909 Ticker Interview. Penicka analyzes Gann's exact words correlating them with the cutting edge science of Gann's day to develop a system which identifies the "mathematical points of force" behind all market action. A system of order based on atomic data generates master numbers for each market structure.