$0.00
$ (USD)
T. G. Butaney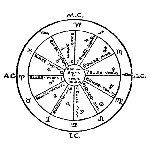 T. G. Butaney, a famous Indian astrologer, wrote 3 books on astrological financial market forecasting and horse racing prediction. His books were judged "The Best Money Minting Books on Speculation and Racing By Readers All Over The World", and explain Market Forecasting, Race Astrology & Numerology and Handicap Formulae.
George Bayer
Works by or about George Bayer, or source works referred to by Bayer or related to his work.
Position Trading
Position trading is an approach recommended by both Gann and Baumring, saying that there were maybe only about 4 good trades per year in any market. Markets would go into congestions of accumulation or distribution for years awaiting a new trend, and meanwhile one trades other markets. Gann taught the same principles on his higher level, saying that MOST money was always made in following a strong trend.
Foreign Language
There are many important non English Language esoteric and scientific works which we have in our archives but have not, as yet, been translated into English. Some important books in this section have already been translated by our Translation Society, and we intend to translate others in the future.
Hermetics
The wisdom teachings of the Egyptian "Thoth" (the Greek Hermes) were preserved in the Hermetic Arcana, translated from Greek by Ficino during the Renaissance. These trace back to the likes of Pythagoras and Solon (Socrates' teacher), filtering through many channels to become the basis of Western Philosophy, Science and Esoteric traditions.
Theosophy
Theosophy, a school of esoteric thought developed my Helena Blavatsky in the late 1800's presented a revival of many lost esoteric traditions. Many of Gann's contemporaries were closely involved with Theosophy, and it influenced the Anthroposophy of Rudolf Steiner, the Arcane School and work of Alice Bailey and the teacher Krishnamurti.
Pythagorean
Pythagoras, educated in Egypt and India, later founded a school on the Isle of Samos. His system of the Quadrivium: Arithemetic, Geometry, Music and Astronomy, the 4 Classical Liberal Arts, provided a foundational curriculum for centuries. Pythagoras has been a major influence on many thinkers, including, Plato, Kepler and many modern philosophers.
Space-time

Space and time can be seen as the primary elements which define the container of existence in which we all function. In the financial markets we could say that Price and Time are the two primary elements which define market movement and structure. Price is Space in the financial market cosmos, and Gann himself even referred to Space in market charts.