Cosmological Economics
in Theory & Practice
The Market Forecasts of Daniel T. Ferrera
Proof from One of Today's Most Respected Gann Analysts
Daniel T. Ferrera is one of the most respected Gann analysts and stock market forecasters in the modern field.
He has presented numerous cycle modes that have predicted market behavior and provided an annual market forecasting service for over 8 years that has produced excellent results for its subscribers.
Forecast Examples
Here we will provide a few examples of Ferrera's forecasts and models but direct you to our larger Ferrera section for further information and details.
S&P500 2000–2008
The following chart shows Ferrera's cycle model for the S&P500 for the years 2000 through 2008, from his 2002 book, Wheels Within Wheels, with the red bar being Ferrera's model and the blue being the S&P500. This model is very similar to that done by Edward R. Dewey, though it contains a great number of cycles (16) with the smallest cycles going down to 6 months rather than 5 years, giving it great accuracy.
Ferrera's Long Term Market Barometer
One of the most interesting elements of Ferrera's work is his ability to generate super long term forecasts into the future using his cycle models, like this forecast out to 2108. We will note that as time progresses, these forecasts do require some slight adjustments as some of the shorter term cycles to tend to "flip" or invert at times, either hyper-extending a move or turning an expected top into a bottom or vice versa, instead, but the general pattern that can be generated for a period over 100 years will generally be found to be quite accurate. This chart was created and published in Ferrera's 2002 course Wheels within Wheels: The Art of Forecasting Financial Market Cycles. Most of us will not live long enough to see this forecast through, but it is interesting to consider!
The Mass Pressure Charts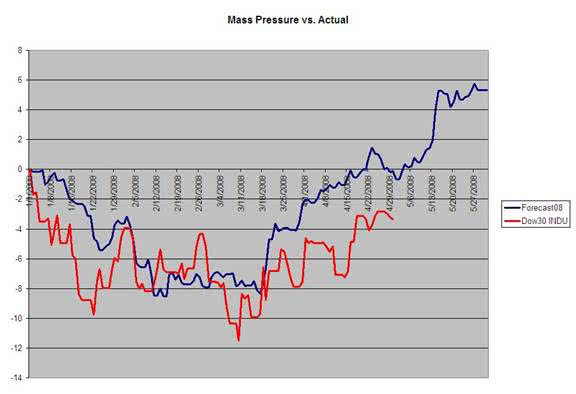 Another technique Ferrera uses to create annual market forecasts is taken from W.D. Gann, called the Mass Pressure Chart, as explained in Ferrera's course W. D. Gann's Mass Pressure Forecasting Charts. The above chart is an example of the Mass Pressure Chart for 2008 provided in Ferrera's Outlook for that year.
Forecast Results from the Annual Outlooks
Below, you can see the summary of results produced by Ferrera in 2012 thru 2013 in his yearly Outlooks. He was also well known to have called the top of the 200-2001 market, the top of the 2007 market, as well as the bottom of the 2009 market putting all his clients back long in the market when everyone was too afraid to invest, getting them in early to one of the strongest bull markets in history!
Next Page
Related Pages