Cosmological Economics
in Theory & Practice
Roger Babson's Forecasting Tools
Predictive Techniques from the Man who Applied Newton's Laws to the Financial Markets
Roger Babson—proponent of the application of natural law to financial forecasting—built a $50 million fortune before the mid 1900's.
He developed a forecasting service based upon the principles of Sir Isaac Newton's principle that, "for every action there is an equal and opposite reaction".
Babson graduated from M.I.T. in 1898, and in 1907 first experienced the chaotic nature of markets by witnessing a massive stock market collapse, with the market falling from 111 to 60 in a very short period.
While seeking an industry to which he could apply himself that would give him the opportunity to produce "repeat" business, the field of financial information struck him as a useful endeavor, and he built a massive fortune providing such information through his company, Babson-United Investment Reports, which survived him by decades only to close in 2001 with the advent of Internet.
Babson's Influences
Aside from Newton's theories of Gravity and Action/Reaction, two other books inspired Babson's thought surrounding the markets, Samuel Benner's famous book, Benner's Prophesies of Future Ups and Downs in Prices and a book by Henry Hall, How Money is Made in Securities Investments, (both foundational texts in Dr. Baumring's Courses and reprinted in our catalog) that influenced his ideas regarding the financial markets. He was guided by a particular quote from Benner:
"There is a time in the price of certain products and commodities, which if taken by men at the advance leads to fortune, but if taken on the decline leads to bankruptcy and ruin."
Babson's Chart & The Normal Line
Working with an old colleague and teacher from M.I.T, Professor George Swain, who had originally given him the idea that Newton's theories could be applied to financial markets, Babson developed a chart using the principle of action and reaction above and below a "normal line" which would help to analyze and predict financial market movement, famously called the Babson Chart.
In his analysis, a "normal line" is drawn through the chart, essentially representing the average curve of the market movement over an extended period of time. Periods when the market moved above this line were considered to be times of prosperity and periods when the market moved below it were times of recession or depression.
Dr. Jerome Baumring on Babson
Baumring used to discuss this chart in terms of "the area above the curve" and the "area beneath the curve", explaining that according to Newton's Law that every force must have an equal and opposite force counterbalancing it, Babson would calculate the sequential "areas above or beneath the curve" in reference to those of the past. In so doing Babson was able to forecast not only the times of prosperity or depression, but also the degree and length of those periods. In Babson's autobiography, Actions and Reactions, he explains:
"Our contribution to the analyzing and forecasting of business conditions was in connection of the areas above and below this Normal line. Other systems of forecasting considered only the high and low of the charts, while our studies considered the areas of the charts. Based upon Newton's Law of Action and Reaction, we assumed that after a depression area, equal in area to the preceding area of prosperity, had developed, another area of prosperity would be due. In making these studies we took cognizance primarily of the shape of the areas."
The full details of Babson's theories and applications of his Newtonian forecasting principles were never made public but were passed on, at least in part, to two of his associates George Marechal and Dr. Alan Andrews, both of similar fame in different circles, though not of as great fortune, as Babson became one of the richest men of the 20th century.
Dr. Andrews provides just about the only explanation of:
"The application to price fluctuations of Newton's law of physics to which the late Roger Babson attributed his fortune of over $50,000,000. The Action and Reaction Rule states that these are equal and opposite." But he continues by elaborating a set of tools and rules for this Newtonian analysis, describing "how drawing a single line will enable you to know where the price of any stock or any future is now headed and the probable time it will reach there."
Andrews explains how Babson:
In gratitude to Newton, established the Gravity Research Foundation now located at New Boston, N.H., and went to England where he was able to buy Newton's former home. He then transported the study where Newton made his discoveries to the Babson Business Institute, and you may visit and sit in this beautifully paneled room...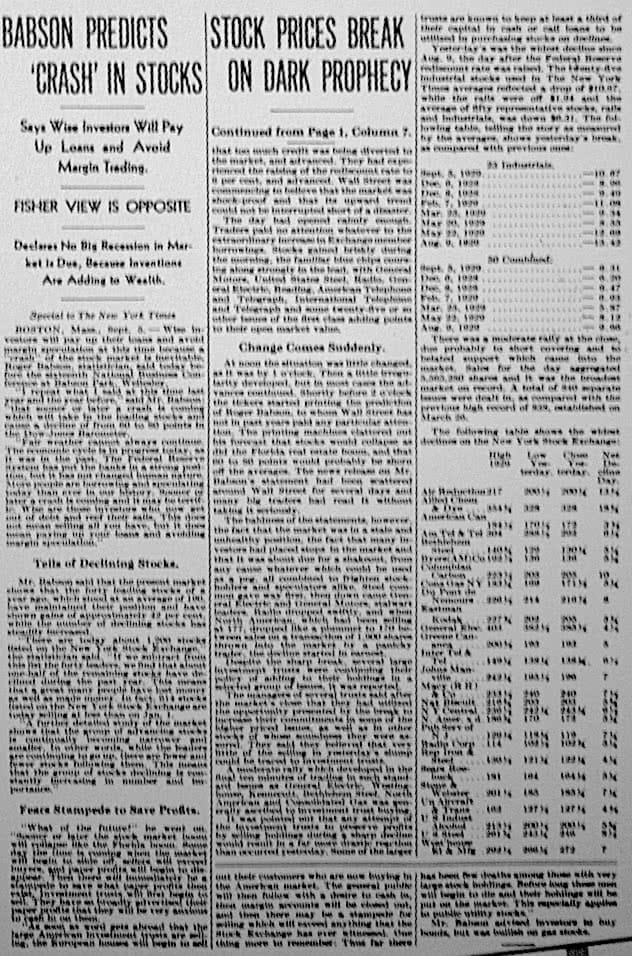 Next Page
Related Pages