$0.00
$ (USD)
Bill Meridian
Bill Meridian is an old friend and we stock all his books. Bill began applying computers to financial astrology in 1983, and developed a collection of horoscopes for major markets and companies. He was ranked #2 in stock market timing in the USA in 2013 by Timer Digest. His books are staple requirements for anyone wanting an education in AstroEconomics!
Keys to Speculation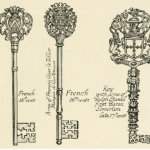 Keys to Successful Speculation by Daniel T. Ferrera is an applied technical trading system using the essentials of risk management with Gann based swing trading. This course has everything a trader needs to go from "0" to being a successful trader, including account management, risk management, trading strategy, entry & exit signals.
Gann's Mass Pressure
W. D. Gann's Mass Pressure Forecasting Charts. By Daniel T. Ferrera. The Mass Pressure Formula is one of Gann's most guarded secrets. Mass Pressure indicates bullish and bearish trends according to Gann's Master Time Factor. These charts are based on Gann's philosophy that "the future is nothing but a repetition of the past".
Market Psychology
Books on the psychological element of the markets and trading. These works cover both how markets are influenced by the psychology of the individuals behind them, as well as the actual psychology behind trading for the trader.
THE ARCHEOMETER: Key To All The Religions and Sciences of Antiquity; Synthetic Reformation of All Contemporary Arts. The Archeometer was used by the Ancients for the esoteric Canon of ancient Art and Science in its various architectural, musical and scientific forms. A respected elaboration of a Universal System by a great 19th century esotericist.
Magick
Magick in the Western Esoteric tradition represents a Western equivalent to the internal training systems that are found in Eastern traditions, but is focused on the development of human powers and abilities. These include mastery of physical, emotional and mental bodies, control over the elements and development of psychic perception and influence.
Occultism
The term "occultism" is often misunderstood by those who fear the unknown. It simply refers to "hidden knowledge" and the various esoteric traditions, such as Theosophy, Anthroposophy, Magick, Hermetics, Tarot, and Astrology. In the Alice Baily works channeled by The Tibetan, Djwhal Khul "occultism" encompasses all high esoteric science.