$0.00
$ (USD)
Edward R. Dewey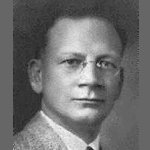 Edward Dewey specialized in cycles, and formed the Foundation for the Study of Cycles. We publish his 650 page Magnum Opus, How To Make a Cycle Analysis. Dewey also developed his Unified Field Theory called The Theory of Laminated Spacetime, presenting a scientific system behind market causation similar to Gann and Baumring.
Eric Penicka: Gann Science
The author correlates Gann's exact words to the science of Gann's day to illustrate his phrase "stocks are like atoms". Offering a system of "mathematical points of force" governing the structure through which the market moves, the emerging science of Periodic Table atomic elements provides a system of order through which to forecast.
Gann Reading List
In the 1940's Gann published a 2-page list of about 90 Books that he stocked and sold to his students, known as "W. D. Gann's Recommended Reading List". Each book contains some component of Gann's system of knowledge essential for piecing together his system. Any one book may have one simple idea critical to Gann's perspective.
Technical Analysis
Technical Analysis involves using technical tools and mathematical measurements in order to determine expected directional movements, reverses or changes in the market. Advanced forms of this technique use mathematical and scientific or geometric tools to project market action or forecast future movement, looking at elements of price, time and trend.
Hans Kayser
Hans Kayser was a leading 20th century scientist who made a deep mathematical, geometric and philosophical study of the Science of Harmonics. Available from our Translation Society, his books explore the deepest principles of Pythagorean Harmony and Order, giving critical insights into Gann Theory and The Law of Vibration.
Magick
Magick in the Western Esoteric tradition represents a Western equivalent to the internal training systems that are found in Eastern traditions, but is focused on the development of human powers and abilities. These include mastery of physical, emotional and mental bodies, control over the elements and development of psychic perception and influence.
Numerology
Systems of numerology date back to ancient Egypt, India and Israel. Hebrew number science, Gematria, was woven through the sacred texts of Semitic religion. Plato used numerical codes in his works, and Thomas Taylor elaborated the advanced systems of Pythagoras in his "Theoretic Arithemetic of the Pythagoreans".
Baumring Science List

In the 1980's Dr. Jerome Baumring, created an advanced course on the scientific cosmological system behind Gann's Law of Vibration, including over 100 important works. These ranged from core works that Gann himself studied relating to Natural Science and Philosophy, to valuable works in alternative or lesser known scientific traditions.