$0.00
$ (USD)
Keys to Speculation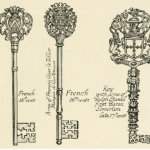 Keys to Successful Speculation by Daniel T. Ferrera is an applied technical trading system using the essentials of risk management with Gann based swing trading. This course has everything a trader needs to go from "0" to being a successful trader, including account management, risk management, trading strategy, entry & exit signals.
George Bayer
Works by or about George Bayer, or source works referred to by Bayer or related to his work.
Market Geometry
Analytical systems, techniques and tools based upon the use of geometry are significantly effective when applied to the analysis of market trends.
Freemasonry
A modern history of Freemasonry begins in the 1700's with the Knights Templar and the Gothic Cathedrals, but its inner lore goes back to King Solomon and Ancient Egypt. Freemasonry was an inner teaching preserving the deep spiritual wisdom of mankind, but has been diluted in modern times. Our collection focuses on the teachings of original Freemasonry.
Space-time

Space and time can be seen as the primary elements which define the container of existence in which we all function. In the financial markets we could say that Price and Time are the two primary elements which define market movement and structure. Price is Space in the financial market cosmos, and Gann himself even referred to Space in market charts.
Videos and DVD

Our ever growing collection of videos of lectures, films, documentaries covering subjects in our fields of interest. We keep our eye out for interesting and informative documentaries and add them to our catalog to help promote interesting ideas that are not so well known.
Andrew Pancholi
Andy Pancholi of Cycles Analysis is a long time research partner, who produces cycle indications for ICE Reports and a monthly market forecasting newsletter, The Market Timing Report, which provides an ongoing monthly evaluation and forecast of the S&P 500, the Dollar, and Euro$, Crude Oil and Gold, highlighting turning points and important trade setups!
Eric Penicka
The solution to Gann's Law of Vibration from the 1909 Ticker Interview. Penicka analyzes Gann's exact words correlating them with the cutting edge science of Gann's day to develop a system which identifies the "mathematical points of force" behind all market action. A system of order based on atomic data generates master numbers for each market structure.