About the Author
Dr. Lorrie V. Bennett is a master of the Law of Vibration and a true expert on the science of the great W.D. Gann. To our knowledge, she is the only living person to have 'cracked' the hidden techniques that underlie Gann's cyclical, astronomical, geometrical, and astro-numerologically-based financial market forecasting system.
Dr. Bennett has assimilated the entirety of the sprawling legacy left behind by the late Dr. Jerome Baumring over 30 years ago, and has gone beyond it to discover several of W.D. Gann's deepest secrets from his most esoteric publications: The Tunnel Through The Air & The Magic Word.
The Law of Vibration Series
The Institute of Cosmological Economics is proud to be collaborating with Dr. Bennett in the publication of a 4-Volume Master Series that contains the entirety of her teachings on the Law of Vibration. The Course Prospectus for the Series provides a general introduction and overview of this original and breakthrough program on Gann Analysis.
Dr. Bennett's willingness to come forward and share everything – without the burden of secretive encryption, and in the transparent light of practical application – garners the beginning of a halcyon era in the evolution of financial market forecasting. To better appreciate the value of her work, her longtime associate Ken Macht has shared his thoughts and memories of her in his Introduction to Dr. Bennett and her Work.
Those who are fortunate enough to be living in these times have a truly unique opportunity to learn from the master through not only her books, but also via an interactive online forum where they will learn from Lorrie in a classroom environment, through the direct application of her teachings to more than a dozen financial markets in real-time.
Lorrie has a profound gift of seeing patterns and of perceiving the underlying order within whatever subject she directs her attention towards. Additionally, she has the gift of perceiving not only what is truly being said, but more importantly, what is not. She has taken on the works of W. D. Gann and Dr. Jerome Baumring in a total immersion. Her tenacity, will, and energy have been the sails, the current, and the wind of her voyage through the illusory and sometimes rocky waters of W. D. Gann.

- Kenneth Macht (from his Introduction to Dr. Bennett and her Work)
Biography
Below you'll find a summary of the key moments in Dr. Bennett's life that led to her discoveries in the Law of Vibration, and the role of the ICE catalog in her education. For more details on the history and development of this project click here. For a richer and more authoritative portrayal of Lorrie's life and work we highly recommend that you read her short autobiography: Not Within the Boundaries of My Mind.
Early Years
Dr. Lorrie Bennett was born on a remote military base in the outback of Alaska. She is the daughter of a US Army Sergeant and a brilliant mom with a doctorate in education. Her parents divorced not long after her birth and she was raised by her mother whose most memorable words were, "You can do anything you want to do as long as you want to do it. And you may do anything you want, as long as you do not hurt yourself, others or other things."
This encouraging and timely proclamation has fuelled an insatiable desire for knowledge that continues in Lorrie to this day.
Spiritual Schooling & Prescient Youth
One of the highlights of her schooling was her move to Summit University, a private spiritual school, at the age of 16. The school provided a foundation for her spiritual development and gave her the skills to overcome obstacles and transcend adversity.
During her 16th year she wrote a piece on the use of music in healing. Without her knowing it at the time, this document contained powerful truths that would become the basis of her greatest breakthrough in the work of W.D. Gann many decades later.
Lorrie undertook an undergraduate studies education in music, then subsequently transitioned to science. She completed her 3-year degree in 2, and subsequently went on to become a qualified practicing Chiropractor.
Family Life
Lorrie met her husband on her 22nd birthday and went on to raise a family of five children with him over the past three decades. Throughout her mothering years she did not lie idle; she not only maintained a busy Chiropractic practice but extended her education into Homeopathy, Internal Medicine, Nutrition, Herbal Medicine, Accounting and Law.
A Familial Connection to W.D. Gann
Dr. Bennett has a paternal connection to W.D. Gann. He was a cousin to her paternal grandfather, and furthermore, the character R. L. Cole from Gann's Tunnel Through the Air is an actual person, and a great Uncle of hers. The Cole family is truly a family of Doctors and Preachers, as the book implies.
Connecting to The Institute of Cosmological Economics
In 2003 Lorrie Bennet contacted ICE to obtain copies of Dr. Jerome Baumring's Seminar Series, Gann Harmony: The Law of Vibration. At this time, she was already exploring the work of Rudy Bess, and had experienced some preliminary exposure to Dr. Baumring's theories which she wanted to explore in their full detail.
We provided her with the complete set of Baumring Courses along with Julius Nirenstein's accompanying Lecture Notes. A year later she contacted us again to purchase a new set of Baumring Lecture Notes by Alfred Freedman which we had recently acquired after his passing.
Accidental Blessings
In 2005 Lorrie suffered a bad head injury in an accident. This injury left her disabled and in need of a multi-year rehabilitation process. She decided to put a positive spin on this unfortunate development by engaging in a total immersion into the Gann-Baumring canon throughout her recovery.
It's worth noting that there is a fascinating parallel between Dr. Bennett's recuperation through Gann, and the imposed convalescence that Dr. Baumring was subjected to when his spine was badly injured in a car accident. In both cases, it was the enforced recuperation that facilitated the total immersion into and subsequent discoveries of Gann's deepest work. Click here for more information about Baumring's injury and Gann discoveries.
Right-Brain Perspectives
Dr. Bennett's accident injured parts of her brain, leaving her left hemisphere more effected than the right, elevating her right brain to a position of dominance. She credits this right brain dominance to be The Key to her cracking Gann, as it significantly amplified her intuitive faculties and engendered a shift in perspective that enabled her to see the both the markets, and Gann, in a new light.
Lorrie's Discoveries, in Her Own Words
Lorrie contacted us again in the summer of 2007 to acquire a new publication – The Gann Ellipse. At this point in time she provided a glimpse into the depth of the work she had been engaged in:
Once having cracked the door to Magic Word, I knew that I needed more knowledge. That is when I found Baumring. I needed a roadmap of how to navigate the footpath before me. I asked the question of whether anyone had found the answer, and it was his work that helped to bring more knowledge and understanding. It would be Baumring's work that told me I had found the answer, as buried within the pages of notes on his lecture materials was a section discussing the DOW.

It was 2007 and the market was going strong. I had found a number span in Magic Word that I didn't know where to put. I read the notes for the umpteenth time and saw the number. It was not just written but a quick calculation showed it. That was the moment I saw the 4th dimension for the first time. It was a blazing Sun that exploded through my head! And I knew it was right…

I had been working on faith that I had the code in Magic Word correct, and to find it in Baumring was the confirmation I needed. It was a few days later when I found the same number in the DOW. And WOW! We were at the end of the time! I knew the top was coming very soon. I shared it with people only to be laughed at and ignored. I sent it to someone who had worked at Janus Funds. He ignored it, then lost millions in the collapse…
Click here to read the complete statement.
Mastering The Law of Vibration: The Student Becomes a Teacher
It has taken considerable time for Lorrie to unpack, catalogue and master all of her discoveries. In her mastery she now possesses the ability to interpret the Law of Vibration from multiple cross-confirming perspectives: numerically, geometrically, harmonically, astronomically, astrologically, and more.
In recent years she has refined and validated her insights through not only profitable stock market forecasts, but also through the prediction of major weather and tectonic events.
As she developed her insights into mastery, she kindled the desire to share the jewels of her life's work with an appreciative audience. She had decided that unlike Gann and Baumring, her teachings needed to be shared in the plain light of day, and without the secretive veil these masters used to conceal their systems.
Dr. Bennett believes that there is a value in this knowledge becoming more readily available to the world, as it serves a number of higher purposes beyond the scope of trading, as is explained in this ICE introduction to her work, The Higher Purpose of Gann Theory.
Privacy & Discretion
Lorrie's desire is to share her hard-earned knowledge with a small and private cohort of Gann and Baumring enthusiasts who would appreciate both the depth of her insights, and need for discretion. She had valid concerns related to the possibility of her teachings leaking online. She informed us that if her books were pirated, she would quit writing and not make any more of her knowledge available to the public. Thankfully, The Institute of Cosmoeconomics has developed a series of anti-piracy measures over the years to ensure the integrity of her teachings. As part of this, the signing of a Non-Disclosure Agreement for access to her work is required.
Publications
The Law of Vibration Series
Dr. Bennett's 4-volume series on the Law of Vibration will reveal the full technical details of Gann's analytical, forecasting and trading system. It is presented in the form of 4 books with accompanying online interactive forums where students will work and learn in a virtual classroom environment with Dr. Bennett.
Multi-Volume Discount Bundles
We offer the following discounts for multi-volume purchases of Dr. Bennett's Law of Vibration series:
Volume 1 – The Law of Vibration by the Patterns
The 1st course, The Law of Vibration by the Patterns, is considered to be the "introductory" work to the series. It provides a set of extremely important technical foundations that lay the groundwork for Gann's understanding of the market. It teaches the principles of Theoretical Wave Mechanics as a basis for learning Gann's Law of Vibration.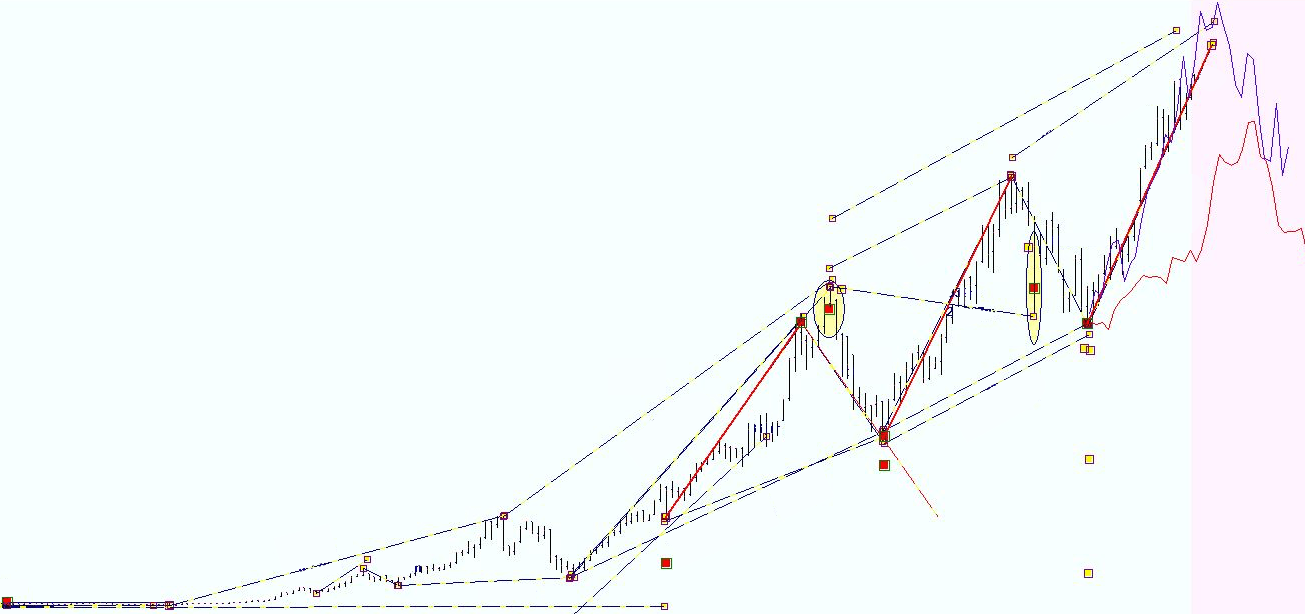 The theory of Wave Mechanics views market action as the composite of multiple underlying component waves, or cycles, that are harmonically combined to create patterns and structures in the markets. When the underlying elements of these patterns are understood, they can be used to determine the cause behind the market and to project the expected outcome which follows.
The theories and principles explained in the book are applied real-time to the analysis and forecasting of more than a dozen markets, providing students with the logic and technical training required to translate the theory into applied practice of trading.
This volume is an essential prerequisite for volumes 2-4.
Hardcover

Cosmological Economics

Book ID: 477

Publication Date: 2017

Reprint Date: 0000

Nuggets from my Research, Volume 1

361 Pages

1st Edition

$2,000.00

(New Hardcover)

This first in a four-part series lays the foundations for the understand of the science of W. D. Gann's Law of Vibration.

A deep and valuable course, filled with information and tools that most analysts have never seen before. It is based upon an exercise originally presented by Dr. Jerome Baumring in the 1980's as an essential first step in the development of an understanding of how underlying wave components, or cycles, are combined to produce a composite or summational wave.
Volume 2 – The Law of Vibration by the Numbers
The Law of Vibration by the Numbers offers the first of several ground breaking insights into the work of Gann. It unveils the 13 Sacred Numbers that are encoded into Gann's The Magic Word, providing the basis for his system and the natural law/logic behind them.
Knowledge of these numbers is useless without the foundation in wave mechanics that is presented in Volume 1. This book is the primer for putting those numbers into wave form using a simple mathematically sequenced wave structure to teach it.
Click here for a complete description of this book
Pre-order Opportunity
This volume is currently available for pre-order at a discounted package price. The physical book is scheduled for release in early 2018.
The Volume 2 Forum is Live
Dr. Bennett has already opened the Numbers forum up to pre-order clients. She is revealing the core teachings from this volume in the forum and providing a range of forecasts that are more advanced than those presented in Patterns.
Pre-order customers – click here for private member's access to the Numbers Forum.
Volume 3 – The Law of Vibration by the Planets
This Volume includes much of Dr. Bennett's most original work. It presents breakthrough insights into Gann's original interpretation of Astrology, which bears similarity to ancient Hellenistic and Egyptian astrological methods.
This volume demonstrates which planets are responsible for time and price intervals based on numerical logic. By the end of the book the reader will understand how key planetary cycles tie to specific intervals, and will have the skills to build and test their own models.
This volume also includes her main decoding and interpretation of Gann's Tunnel thru the Air. It includes instruction on the key Tunnel tools and cycles including:
Tel-Talk
Tunnels
St. Marie
Marie
Angle of Mercy
Bicycle
Pocket Radio
Radio Annulifier
Astrological approaches found in this volume will revolutionize the entire field of Astrology, if it were to be made public, perhaps even recovering the ancient system that has been long lost and much sought in recent centuries.
Click here for a complete description of this book
Volume 4 – The Law of Vibration by the Geometry
This volume combines all of the knowledge, processes and tools from the first 3 volumes into a unified whole. Through this synthesis it presents a means in which to understand the 4th dimensional geometry of financial markets.
Spiral growth (example below), geometric shapes, and other mathematical and geometrical foundations are superimposed over the prior teachings to take the student's metric and perceptual abilities to the highest possible level.
Click here for a complete description of this book
Lorrie Bennett Forums
Related Pages