Sepharial's Master Horse Racing Systems
His Lost Horse Racing Manuscripts Now Available
Overview
This Sepharial collection contains the only know set of verified original copies of Sepharial's horse racing manuscripts in known existence. These works represent Sepharial's most advanced systems for predicting horse races, and were only sold upon private application for extremely high prices.
In the advertisement below, you can see that The Apex System was sold for £50 pounds approximately 100 years ago. £50 pounds in 1917 value is the equivalent of £4000 today, which is approximately $5200 in today's dollars. Even to apply to purchase this system, Sepharial required the equivalent of a $1000 deposit be sent by mail.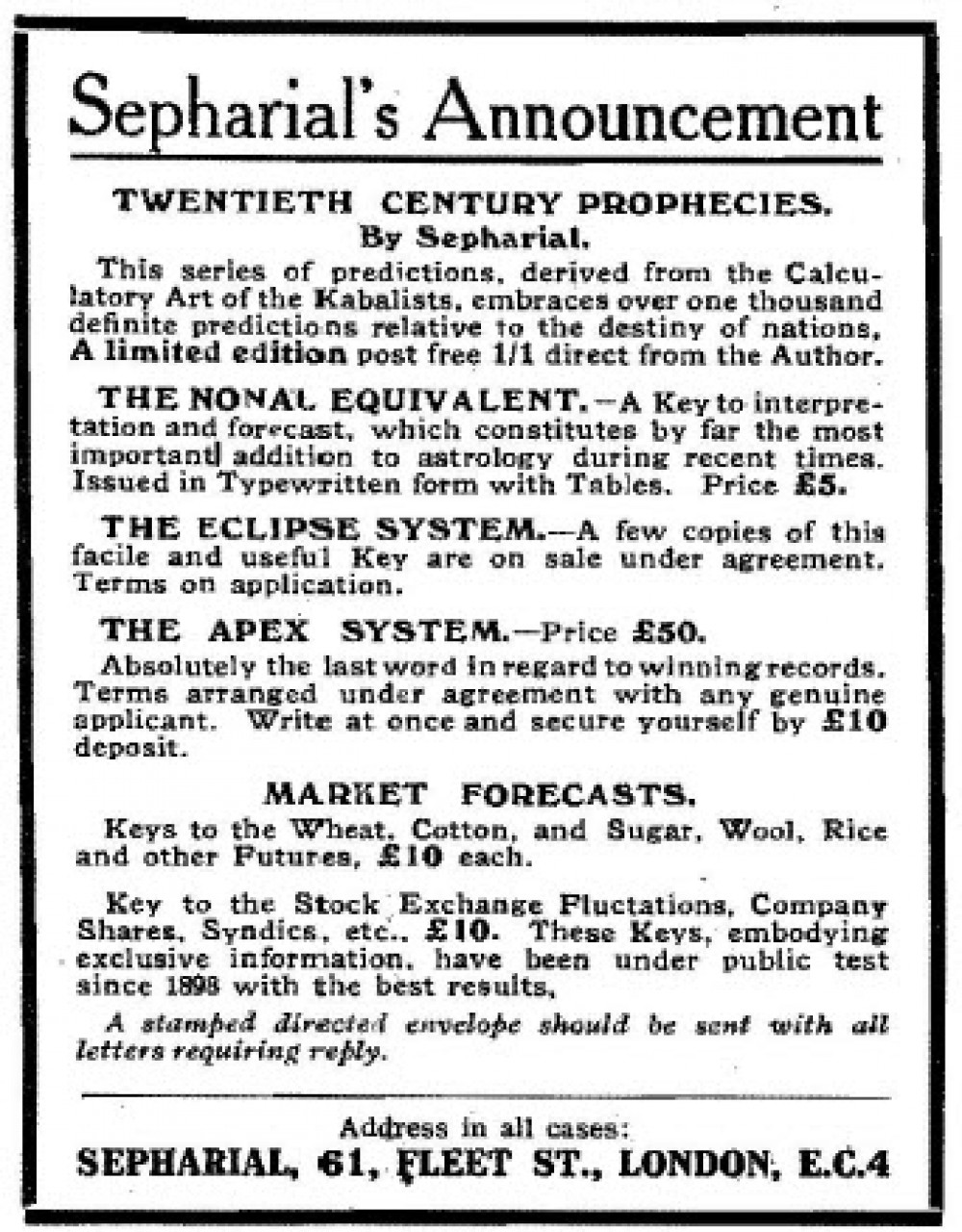 The only reason we even know of the existence of these manuscripts is from past advertisements placed by Sepharial in his books or in magazines like The British Journal of Astrology, where he wrote a monthly column for over 20 years, from which the above advertisement was taken.
There have been versions of some of these horse racing systems which have been published before, such as in our earlier publication, Sepharial's Arcana & Keys, which contained samples of both original financial market Arcana pieces, along with some horse racing pieces, which claimed to be transcriptions of the original documents. However, we were not able to verify the authenticity of the transcriptions, since there are no original available copies of these manuscripts anywhere to compare them to. Until now… with the release of this set of verified original documents, we are now positive as to the exact instructions contained in Sepharial's racing systems.
As to how we were able to verify that these documents are original, that was accomplished through a combination of a comparison to other original stock market Arcana manuscripts, original copies of which we do have, which were published in our above-mentioned work. That and a documented provenance from the original owner directly to us. These original manuscripts were part of the famous racing and lottery forecaster, Solastro's private astrological collection. At one point late in his life, Solastro sold these manuscripts to an associate of the Institute, who passed them to us, so that we have established a direct chain of custody.
We also have Solastro's original letter he sent to his clients where he described and listed these works for sale (see below), which is included with the set. Sadly, there was one Sepharial document that Solastro possessed which our friend was not able to purchase, which is one of the rarest pieces that people have long sought without success. That piece is The Golden Key, an original of which has never been seen, though again, we do have a claimed "transcription" of it in our above-mentioned work.
The problem with these "transcriptions" is that there is simply no way to know whether they are accurate or not, or to know if there is any significant variance from the originals. Now that we have the only known original set of these manuscripts, we have made some comparisons and the "transcriptions" are quite different from a word by word copy of original text, more like a paraphrasing of what is in the originals, so not exact at all.
So, we are quite happy to be able to put the originals of these manuscripts out for the 1st time in history, so that the racing community can finally confirm the true nature of Sepharial's exact instructions in his racing systems.
For those who are interested in these types of racing systems, we recommend our publications of Solastro's Key and Master Horse Racing Systems as a further advancement upon Sepharial's work. Solastro had these manuscripts I his possession for most of his life and claimed they were extremely valuable to him in the development of his own systems. But Solastro's work represents an extra 50 years of research and application beyond that of Sepharial.
Solastro used Sepharial's and other master astrologer's systems like those of Vivian Robson and J. C. Maloney, which many astrologers may never have heard of, as again, these documents are often sold only to very few people. So Solastro had the opportunity to begin his career with the best work developed by his predecessors, upon which he expanded considerable with new theories and applications, like into lottery and the prognostication of 2-team and 2-player games, which are generally of greater interest today that horse racing.
For those who would like to expand their research and experimentation to a wider range of applications, see our other Solastro collections on lottery prediction or 2-team sports betting. His Advanced Master Lottery System was his most expensive and therefore most highly valued of all of his work, so any serious researcher would want to explore that system to see what his highest work was all about.
Solastro's Original Letter Offering to Sell His Original Manuscripts
PRIVATE & CONFIDENTIAL
RARE ASTROLOGICAL MANUSCRIPTS FOR SALE

Immediately prior to my departure from India to Canada in April 1966, I reluctantly disposed of my extensive library of astrological books which I had assiduously built up over many years and much expense. I brought with me to Canada only a few, rare, private and confidential astrological manuscripts showing methods for applying the science to horse-racing. They are among the finest in the world, written by the greatest authorities, known only to a few people and extremely difficult, if not impossible, to obtain. For some of them I paid as much as $300 .00 each, because I realized that in purchasing them I was not spending but investing my money - this has now been proved correct. I have treasured them so that even today they are in very good condition. Each consists of a few sheets of typed material. I have now decided to dispose of these original manuscripts. To appreciate their value and to profit from them, a knowledge of the basic principles of astrology - as given in my book "Astrology for Horse-Racing "- is essential. I have only one manuscript of each shown below which I offer you, among a few others, at prices I consider most reasonable. A bargain such as this seldom occurs twice during one lifetime. Naturally, they will be sold to the party whose reply reaches me first. Should you be interested in purchasing any of them, I would urge you in your own interests to advise me promptly. I have found them all excellent and highly profitable, and have no hesitation in recommending them. Please do not send any payment until you hear from me.
What's Included in This Work
Solastro's Astrological Manuscripts for Sale Provenance
Sepharial's Numerical System
Sepharial's Form Guide
Sepharial's Tidal Law
Sepharial's Solar Apex
The Master Key
Sepharial's Five Point System
Related Pages