$0.00
$ (USD)
Bill Meridian
Bill Meridian is an old friend and we stock all his books. Bill began applying computers to financial astrology in 1983, and developed a collection of horoscopes for major markets and companies. He was ranked #2 in stock market timing in the USA in 2013 by Timer Digest. His books are staple requirements for anyone wanting an education in AstroEconomics!
Keys to Speculation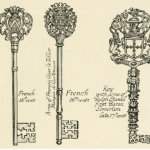 Keys to Successful Speculation by Daniel T. Ferrera is an applied technical trading system using the essentials of risk management with Gann based swing trading. This course has everything a trader needs to go from "0" to being a successful trader, including account management, risk management, trading strategy, entry & exit signals.
Forecasting
Not everyone has the skill, experience or desire to make forecasts of market phenomena, so they turn to experts who provide information to help anticipate market trends. Our top analysts provide forecasts or reports for different markets to help traders understand market action and get educational guidance with trading or investments.
Bible Interpretation
The Hebrew system of Gematria pervades the Bible concealing secondary teaching in a number code read only by initiates into this deeper system of knowledge. W.D. Gann and George Bayer were two individuals deeply immersed in this form of Biblical decoding, developing systems of mathematics, prediction and astrology out of their readings.
Glass Bead Game

This derives from a book by Hermann Hesse, representing an underlying symbolic cosmology that is the basis of all science, philosophy, spirituality and thought. Hesse imagines a game created using universal symbols to represent flows of thought or information. This is a metaphor for systems of esoteric symbolism underlying all knowledge.
Zen
Zen and Chan are similar terms from Japanese and Chinese systems of Buddhism, but they originate from the Indian word Dhyana, loosely translated as "meditation". Zen is a mind science, giving direct access to the core layers of mind. The origin of Zen is in India, home of Buddhism. Allan Watt's called it "Hinduism stripped for export".
Art
In Ancient times, art was more than a form of entertainment or decoration, being a means of preserving various forms and levels of knowledge, including scientific principles. A core element is called "The Canon", whereby through ratio, proportion, shape and symbolism, an entire system of universal knowledge can be encoded and preserved.
Time
Time is a primary consideration in science, philosophy or financial market theory. Our collection of titles on Time in all of its elements covers subjects which range from Hyperdimensional Time Cycles to Relativity and Spacetime. Books selected by Dr. Baumring and W.D.Gann provide deep insights into market analysis and scientific or esoteric cosmology.