$0.00
$ (USD)
George McCormack
George McCormack, famous Astrometeorologist, is known for his classic Long-Range Astro Weather Forecasting, the most popular book on the Astro-Weather Forecasting. He also produced a series of financial market forecasting newsletters called Astrotech. We have recovered the only known partial set of 400 pages of these newsletters.
Spirals Growth & Decay
The Spirals of Growth and Decay, Exposing the Underlying Structure of the Markets. By Daniel T. Ferrera 2005. Utilizing deep concepts from nonlinear mathematics to mechanically describe the structure of price waves in financial market data, linking the ideas of shock, balance, instability, static and dynamic form in all trading markets.
Forecasting
Not everyone has the skill, experience or desire to make forecasts of market phenomena, so they turn to experts who provide information to help anticipate market trends. Our top analysts provide forecasts or reports for different markets to help traders understand market action and get educational guidance with trading or investments.
W. D. Gann's Courses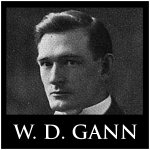 Collected Courses of William D. Gann, by W. D. Gann. 1920 - 1954. This is the most complete and best organized collection of Gann's Master Courses, his most important writings. Without these, Gann is impossible to understand! We've collected all the missing pieces and reorganized them back into Gann's original order.
Hans Kayser
Kayser was a leading 20th century scientist who made a profound mathematical, geometric and philosophical study of Harmonic Science. Available in English though our Translation Society, Kayser's works explore deep principles of Pythagorean Harmony and Order. His books give critical insights into Gann Theory and The Law of Vibration.
Architecture
In ancinet times architecture often incorporated esoteric knowledge almost lost today, but encoded secretly into many existing ancient monuments. Geometric principles of divine proportion govern the complex forces underlying financial markets as well as architecture. We have one of the largest collections of books on these subjects in the world.
4th Dimension
Much science from the 1800ís postulated a 4th Dimension, often considered to represent Time, in relationship to 3-Dimensional space. Gann himself posited the idea of space itself being a 4th dimension in the markets, which requires the Gann theorist to become familiar with complex and often metaphysical theories of extended dimensionality.
Dr. Jerome Baumring
Dr. Baumring is the only known person to have fully cracked W. D. Gann's full Cosmological System! He reproduced Gann's results, forecasting markets within 3 minutes of turning points. He extended Gann's Law of Vibration into DNA Coding, Chaos Theory, and Topology, creating multi-dimensional, mathematical models of the markets.