$0.00
$ (USD)
Astrology Manuscripts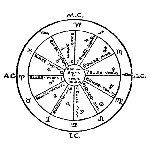 The Earliest Financial Astrology Manuscripts. By W. D. Gann, Fred White, Prof. Weston, Sepharial, etc. This collection centers on a set of 4 rare manuscripts dated 1902-1930 proving the advanced level of astrology earlier than previously known. Their likely authorship is Fred White and Gann documenting the earliest thought in this field.
PFS Grain Forecast
2019 PFS Grain Forecast Bulletin by Daniele Prandelli. A Swing Trader's Forecast Based Upon Gann's Key Principles. The PFS Forecasting Model gives a model of the most expected highs, lows, turns and impulses and is then combined with Key Price Levels as determined by Gann's planetary longitude lines, creating a tradable forecast for the coming year.
George McCormack
George McCormack, famous Astrometeorologist, is known for his classic Long-Range Astro Weather Forecasting, the most popular book on the Astro-Weather Forecasting. He also produced a series of financial market forecasting newsletters called Astrotech. We have recovered the only known partial set of 400 pages of these newsletters.
Behind the Veil
Behind the Veil, by Dr. Alexander Goulden is one of the favorite courses of technical analysts and serious traders. Based on scientific principles identifying Price Levels, Time Turning Points, and Trends, thru Harmonic, Astronomical and Geometrical Techniques developed by a Cambridge Scholar. A new angle on Gann's work.
Market Software
Technical analysis requires sophisticated measurements and calculations, so good software tools save time and allow wider scope. We have carefully selected software for market analysis, geared towards Gann, geometric, astronomical, cycles or other related topics that we most use, including pre-programmed Gann and Astro tools.
Hans Kayser
Kayser was a leading 20th century scientist who made a profound mathematical, geometric and philosophical study of Harmonic Science. Available in English though our Translation Society, Kayser's works explore deep principles of Pythagorean Harmony and Order. His books give critical insights into Gann Theory and The Law of Vibration.
Daniel T. Ferrera
Our most popular author, Dan Ferrera is a master of making complicated ideas easy to apply. His 9 courses present KEY elements of Gann Theory and Technical Analysis including Time Cycles, the Square of 9, Periodicity, Price Structure, Swing Trading and Risk Management, providing advanced tools for the average trader.
Robert Rundle
Magic Words Thru the Zodiac cracks the complex symbolic code that W. D. Gann used within "The Tunnel Thru the Air". It unveils a Masonic Gematria cypher which serves to decrypt references and clues concealed in names, dates and other key words thru the text. These conversions are used to determine anchor points for important market cycles.